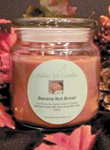 In a brave new world of iPods and electric cars, there aren't many products that have remained strong sellers after thousands of years. But people still love the humble candle, and Edith Fikes, the owner and candle maker of Dallas Soy Candles, has found a new twist on this ancient product that makes it even more attractive to modern shoppers.
Fikes has brought a true artisan's sensibility to the creation of her candles. She worked hard to perfect her recipes. "I tested different types of soy wax before I found the one that produced the highest quality. In making candles, it is trial and error until you create the perfect soy candles. We have developed our coloring recipes, too. The various colors come in blocks, and you have to figure out what is the appropriate amount of color." She is also happy to go into the details of fragrance ratios, wick size and type, and the varied burn rates of soy versus paraffin wax.
By using soy to create her candles, Fikes makes her product stand out from most other candles, which are made of paraffin, and may even use lead in their wicks. She is so enthusiastic about soy wax that she put the word "soy" in her company name. And her talking points are compelling:
Soy wax is all natural, bio-degradable, and environmentally friendly. Soybeans are a renewable resource, and using soybeans supports our economy.
Soy candles last longer. They can last up to 50 percent longer than paraffin candles.
Soy wax spills can easily be cleaned up with hot soapy water. It is very difficult to remove paraffin wax from furniture, countertops, and floors.
Soy candles produce about 90 percent less black soot than paraffin candles. Soot can be unhealthy and can eventually coat furniture and walls.
Fikes offers not only a modern wax for her candles, but also a modern container to hold them. "We choose containers that have a modern appearance. I do not use the hexagon jars or jelly type jars. We offer five styles of jars to choose from," she says.
With 20 years of retail experience, Fikes also knows how to make a product that appeals to resellers. "I have learned to be successful by treating my customers the way I would want to be treated. Customer service is a top priority, along with a high quality soy candle," she says. She has sold extensively into the flea market channel, and is making a push into more independent retail stores.
Fikes caters to retailers with tailored products. "We customize labels for the retailer," She says. "This way they can get repeat business from the customer, since it is an excellent product. Also, we will provide educational material about soy candles to educate the customer." For example, she offers detailed information on how best to burn a candle.
Retailers can expect keystone margins, she says. "A 16 ounce candle wholesales for $8 and retails at $15.99. An 11 ounce tumbler wholesales for $6 and retails at $11.99," according to Fikes. The minimum order is $175, and volume discounts are available.
For more information:
Dallas Soy Candles
1200 Shady Elm Lane
Lewisville, TX 75067
Tel.: 469-322-3500
Website: www.dallassoycandles.com