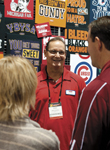 If you're looking to carve out a unique niche in the highly competitive world of sports marketing, the annual Sports Licensing & Tailgate Show is a good place to start. Held every year in Las Vegas at the Las Vegas Convention Center, the Sports Licensing & Tailgate show hosts about 300 exhibitors selling products licensed by more than two dozen sports leagues and licensors. The order-writing show offers the option to make purchases directly on the show floor, and a series of networking events make it possible to stay connected with other people in the industry.
One of the great benefits of attending a show like this, says Liz Crawford, vice president and group show director, is the chance to see what's hot in sports licensing. "We're seeing much more fashion-forward apparel," Crawford says. "There's a lot of Millennial and youth engagement in the market, so companies are responding to making edgier apparel."
The selection of women's products—with everything from apparel to home goods—is also continuing to dramatically expand as manufacturers learn how to effectively design products that appeal to women.
Show attendees are also starting to see more products aimed at pets.
"In terms of attendees, we see a lot of fan shops and specialty stores," Crawford notes. "This includes gift shops and independents."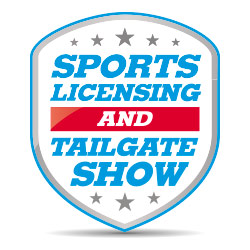 To get the most from the show, Crawford advises using the online Show Planner and checking out the list of exhibitors and product categories. "We have an online match-making tool so you can schedule appointments ahead of time," Crawford says. "The key to getting the most from a show like this is face-to-face contact, so I always tell people to walk the floor first, then go back to the ones that interest you the most. The real story of tradeshows is who you don't know. I've seen it time and time again that people are introduced to new people and relationships are created."
Every year, Crawford says, buyers place several million dollars worth of orders from the show floor.
How to Attend
The annual Sports Licensing & Tailgate Show is scheduled for January 14-16, 2015, at the Las Vegas Convention Center, South Hall. The show doors open at 9 a.m. on Wednesday, January 14.
Registration is available through the show's website. The show is open only to qualified retailers, and you may be asked to show proof of retail status. Attendees who register early can receive a discount. On-site registration is $105, according to prices posted on the company's website.