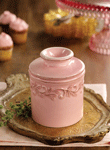 Celebrating 25 years of awareness, education and empowerment, National Breast Cancer Awareness Month has become a well-recognized event and movement in the fight against cancer. Throughout the years, there have been numerous donations and sponsorships from leading manufacturers, suppliers and other organizations looking to make a difference, and adopting the pink ribbon as part of a new look. One such sponsor wearing the pink ribbon proud this month is Eggland's Best Eggs, and joining them in the cause and in the kitchen is Lisa Tremain's Pink Antique Butter Bell Crock.
Butter Bell Crock, Supporting Spreadable Butter and Breast Cancer Awareness
The unique, French-inspired kitchenware piece was first introduced to the butter-eating American market in 1995 by Lisa Tremain, via QVC and print ads. Now, her wholesale business, L. Tremain, supplies the increasingly popular butter bell crocks and other gourmet kitchenware to independent retailers, promising them in return a profit of keystone or more. Made from new bone china, the ceramic crock's unique design keeps butter at the perfect "spreading" consistency by reflecting outside heat while insulating and cooling the butter.  "Butter will stay fresh for a couple weeks without going bad. You won't have to microwave the butter, and since it isn't in the refrigerator it won't pick up odors in the flavor," explains Tremain. Flavor and freshness is protected by an airtight seal of water at the base of the crock. As long as the crock is stored away from heat or sunlight, the water can be changed out every three days and replaced with fresh, cold water. Holding up to one full stick of softened butter, the lid is pack firmly and placed upside down into the base of the crock full of water. Butter eaters only need to lift the lid to be served.
And while Americans may share a love or at least a preference for butter, they don't always share the same stylistic taste in their kitchens. The Butter Bell Crock originally available in a white raised floral design and a hand-painted raised floral design has evolved into many styles suitable for any kitchen type. But everyone can find a little room for pink in their lives, especially when a percentage of the purchase price of this pink butter crock goes towards charity. For every pink crock purchased at retail for $24.95, L. Tremain will donate 10 percent of the sale price to the Living Beyond Breast Cancer Foundation, a national education and support organization that helps all women affected by breast cancer to live as long as possible with the best quality of life.
For more information:
L. Tremain Inc.
P.O. Box 10728
Marina Dell Rey, CA 90295
Tel.: 888-575-1900
Website: www.butterbell.com