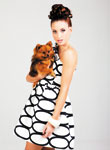 Sharp colors and brilliant patterns will pop up this spring, as styles and colors, introduced at New York's Fashion Week, find their way into retailers' shops. Black and white combinations, patterned with a variety of stripes, polka dots and squares; peekaboo pieces, such as cutouts, midriff baring separates and sheer fabrics; and lively leather clothing are sure to be sought after. Bermuda shorts, overstated sunglasses and flirty skirts also are expected to be well liked in 2013.
Annette Ellis, owner of Kloset Karma Consignment Boutique, located in Atlantic Beach, FL, says "Boho chic" merchandise, lightweight and flowing, with a kind of a hippy vibe, will be a customer favorite. Ellis launched her business in 2008 and sells casual and vintage items, including apparel, shoes and jewelry. "I shop in the retail malls to keep up with current trends. I don't buy, I just look to see what is trending."Natural fibers and earth tones will be popular as well, according to Ellis' observations.
Apparel styles are sure to be influenced by the newest color introductions, which, in addition to soothing neutrals, comprise energizing brights, according to the Pantone Fashion Color Report Spring 2013. Prominent hues for the upcoming season include an array of green tones, such as yellow-green, emerald and subtle grayed jade. Elaine Tran, owner of Daisy Swimwear, a manufacturer and wholesaler of swimwear and cover-ups made in the USA, suggests pastels and neon colors, for a young feminine look, will be a hit this spring. The Pantone color of the year, which was Tangerine Tango in 2012, is very important because, "color sells more than the style,"she notes. Tran, who stays abreast of style and color movements by attending trade shows and studying fashion magazines, expects different types of silhouettes, such as corsets and underwire tops, as well as crocheted swimwear and cover-ups to be popular. In addition, sequins, crystals, and gold and silver rings will add bling to apparel this spring. Ellis, who manufactures her entire line of merchandise in her factory near Los Angeles, CA, also believes shoppers' interest in products made in America will continue.
A recent survey by The Boston Consulting Group (BCG) supports Ellis' statement, as more than 80 percent of U.S. consumers reportedly are willing to pay more for products labeled, "Made in the U.S.A."than for those labeled, "Made in China."BCG surveyed more than 5,000 consumers in the U.S., China, Germany and France regarding their attitudes toward the value of the Made in USA brand and their actual buying behavior. Results reveal that about two thirds of U.S. consumers are willing to pay a premium for 10 key product categories, including apparel.
Retailers looking to bring the "now"factor to consumers this spring can look for merchandise that is comfortable, light and airy, like jersey fabric and Pashmina scarves. Bright solids, calming neutrals and bold patterns will provide a balance, as retailers transition from restful winter garb to revitalized spring apparel.