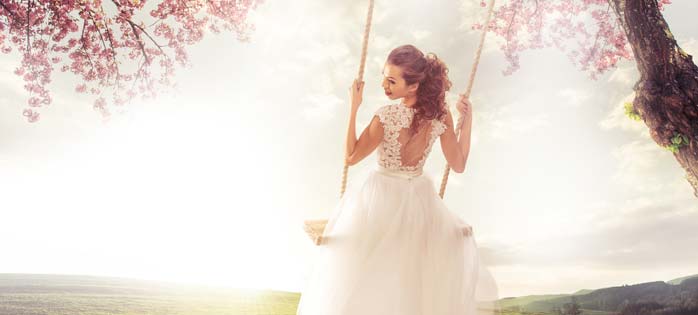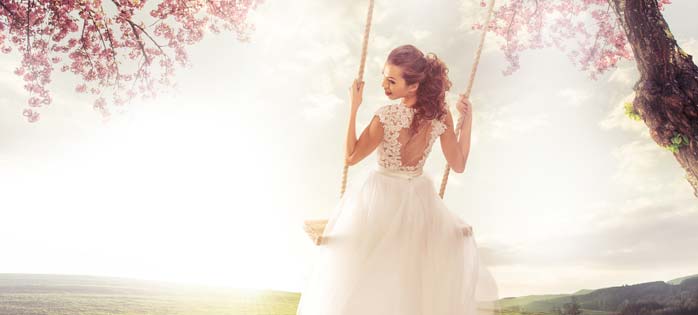 Spring is the perfect time to turn over a new leaf and restock your store with some trendy and innovative products. Get your business blooming and excite your customers for the coming warmer weather with decorative floral accents and beachy vibes and start a clearance sales rack for all those winter accessories.
As retailers are getting ready to bring in all the new spring and summer products, it's a good idea to let customers know what's to come when they are shopping in-store or online. Valentine's Day will bring in another rush of shoppers, so be ready with flyers, email reminders, or just simply telling them in person to check back once you have all the new products in-store. Here are some fun spring and summer product ideas for you:
APPAREL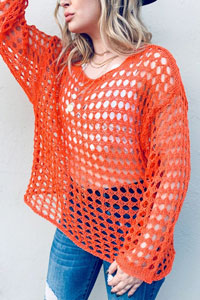 Mesh Spring Pullover Sweater Cover-Up
Get your customers feeling springy with this mesh sweater cover-up. Perfect over bathing suit tops, tank tops, or bralettes, this cover-up will add a splash of color to any outfit. This mesh top comes in yellow and orange for an easy match with any other accessories. Log in to the site to view the full details.andthewhy
Tel.: 213-444-9000
andthewhy.com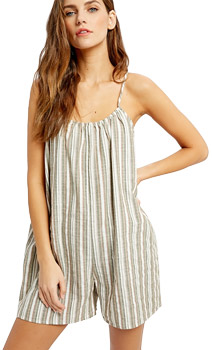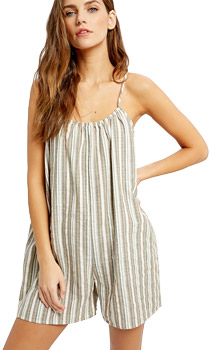 Spaghetti Strap Romper
As retailers are stocking for the spring and summer, consider this simple yet beautiful romper. It provides the ultimate relaxed look for any day or outing, allowing your customers to get the most use out of it during the warmer months.Wishlist
Tel.: 323-232-3000
www.wishlistapparel.com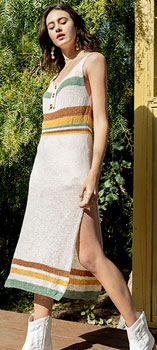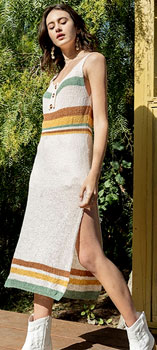 Relaxed Summer Dress
Consumers want clothing they can feel comfy and relaxed while wearing and this dress is perfect for doing just that. Its loose-fitting and crochet look give it that everyday wearable vibe, while the leg slits add just a little flare for the fashionistas. This item is sure to sell out.POL Clothing
Tel.: 310-715-1370
www.polclothing.com


Polka Dot Skirt
The unique tie on the front gives this skirt more of a laid back, summery flare. Available in a beautifully matte shade of pink, it's easy to match with almost anything. Perfect for a day at the beach or as business casual attire, this skirt is sure to fly off retailers' shelves.Everly Clothing
Tel.: 323-231-0300
everlyclothing.com
---
CHILDRENSWEAR
Dino Rainbow Spikes 3D Hoodie
Now kids can dress up any time of day! Perfect for both little girls and boys, this 3D spiked hoodie allows any child to express themselves. Made with 100% cotton for the utmost comfort, Doodle Pants ensures a percentage of your purchase always goes to children in need.
Doodle Pants
www.doodlepants.com
---
FOOTWEAR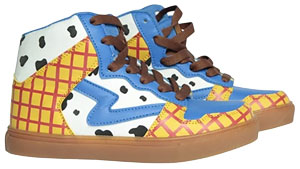 The Cowboys Sneakers
Little Prospects has a whole line of unique sneakers for kids to be able to express themselves. This Toy Story®-inspired sneaker looks as if Woody designed his own shoes. Any Disney®, Toy Story® or cowboy-loving kid are sure to make a statement with these sneakers. Available in boys sizes 1-6.
Little Prospects L.L.C.
Tel.: 213-245-9495
www.wholesalecentral.com/little0001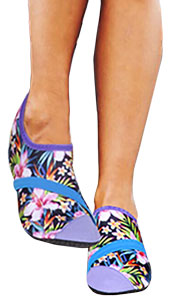 Fitkicks
The authentic barefoot feel of FITKICKS footwear ensures extreme comfort to complement a healthy lifestyle and the pursuit of passion. They're perfect for low-impact workouts, fun at the beach, give relief from uncomfortable shoes and work well as an all-around kickback companion. Easy fold-and-go transport makes them ideal for any active lifestyle.
DM Merchandising Inc.
Tel.: 800-548-6784
www.247dm.com/product/fitkicks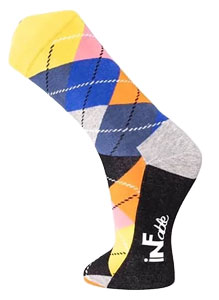 Down Syndrome Awareness Socks
iNFable designs loads of different socks that support a different disability to help create awareness and support. A portion of every purchase made at iNFable is donated to charities and nonprofits working towards a brighter future for our community and our planet. Support awareness for Down Syndrome with these colorful patterned socks.
iNFable, LLC
Tel.: 616-826-8665
www.infablesocks.com/products/down-syndrome-awareness-socks
---
HANDBAGS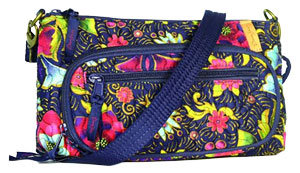 Quilted Handbags
Perfect for those who love fashion and function, Donna Sharp® Handbags provide a stylish way of carrying all of the essentials! There are tons of trendy styles and colors to choose from, including floral patterns and innovative designs. These are the perfect handbags to start your customers on the right foot this spring season.
American Heritage Textile
Tel.: 888-810-1003
www.wholesalecentral.com/americ0015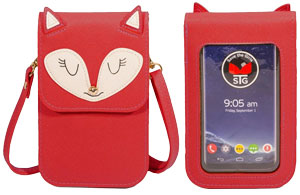 Fun Fox Cell Phone Purse
This stylish purse features a touchscreen vinyl backing that allows users to text, answer the phone, and perform other smartphone functions while the phone remains inside the purse. It can be worn traditionally or as a crossbody bag, featuring a deep pocket and a fox character on the front pouch.
Save the Girls
Tel.: 800-862-4590
www.savethegirls.com/products/fun-fox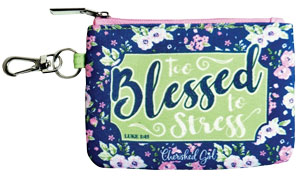 Too Blessed to Stress Coin Purse
"Too Blessed to Stress" is the motto your customers should live by this spring and summer season, and this cute flowery coin purse is the perfect way to show that. Available in lovely spring colors, it's the perfect accessory to clip on to keys, purses, or belt loops. Each purse is made of polyester material with a sturdy plastic ID cover.
Kerusso Apparel & Gifts
Tel.: 800-424-0943
www.kerusso.com/collections/christian-coin-purses
---
ACCESSORIES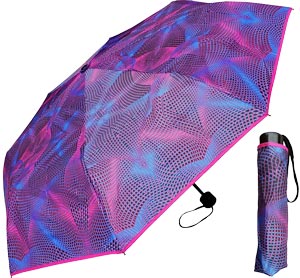 Colorful Folding Umbrellas
These folding umbrellas come in hundreds of different colors and patterns and are super sturdy, containing a chrome plated shaft, a matching carrying case and nickel plated ribs. The well-crafted handles incorporate a wrist strap for easy handling. These umbrellas are 100% nylon and come in styles you never thought could fit into a purse.
Umbrellabazaar.com
Tel.: 954-607-2115
www.umbrellabazaar.com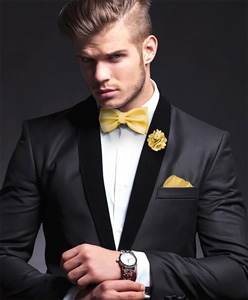 Mini Bouquet Clutch Back Flower Lapel Pins
These floral lapel pins are the perfect addition to dress up any suit jacket. Available in a wide range of colors and styles including paisley, black, red, and green among others, they're sure to steal the hearts of your customers. They're 100% polyester and totally affordable.
Selini NY
Tel.: 866-955-8437
www.selininy.com/formal-accessories/lapel-pins
---
EYEWEAR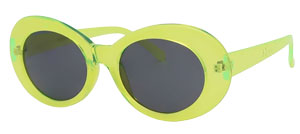 Neon Round Clout Fashion Sunglasses
More of the older styles of sunglasses are coming back into fashion, and these beauties can be seen on some of the top social media influencers. Available in neon pink, orange, and green, these sunglasses are the perfect addition to any spring display to get customers excited for the spring.
E Focus, Inc.
Tel.: 888-499-1688
www.wholesalecentral.com/efocus0001
---
JEWELRY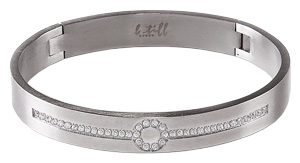 Prosperity Stainless Steel Bangle Bracelet
For an accessory that looks super expensive but can be bought at an affordable price with a modern design, look no further than this B. Tiff bracelet. With a unique and modern design, this is a bracelet that will work for sophisticated events, date night or during the day as an accessory. Each diamond alternative stone has been carefully and expertly cut for premium light reflection, ensuring that it sparkles brightly no matter how it's worn.
B. Tiff New York
Tel.: 212-695-1155
www.btiffshop.com
---
HAIR ACCESSORIES
Floral Romance Hairvine
This vintage-inspired exquisite hair vine is embellished with freshwater pearls and clear crystals, along with hand-wired and hand-painted rose gold flowers. Complete with satin ribbon and hoops on either side, this fashion piece can be worn on various hair styles with or without the ribbon.
Athena Sales
www.wholesalecentral.com/athena0001
Knotted Danbando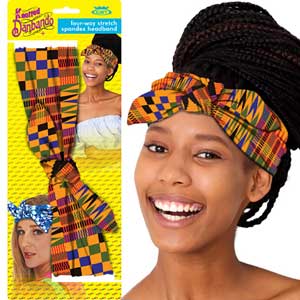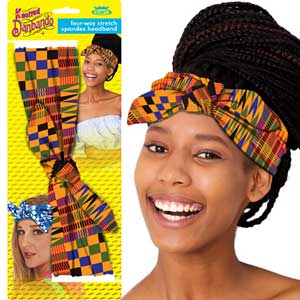 This Knotted Danbando® offers exclusive patterns with an adorable bow on the front for stylish consumers. The Knotted Danbando® is a four-way stretch spandex, sublimation printed headband available in African Print, Blue Hibiscus, Pastel Tie Dye and more. In stock and ready to ship.
Capsmith, Inc.
Tel.: 800-228-3889
www.capsmith.com
---
CHILDREN'S ACCESSORIES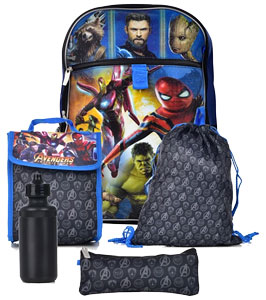 Marvel™ Avengers Infinity War™ 5pc Backpack Set
One of C & B Corp.'s best-selling children's products, this backpack set is the perfect combination for any child obsessed with the Avengers™. Complete with a backpack, lunchbox, draw-string bag, water bottle, and pencil case, it's the perfect travel accessory to have everything they need all in one place. Also, it's never too early to start looking at new and trending back-to-school supplies!
C & B Corp.
Tel.: 310-866-6668
cbexclusives.com
---
PET PRODUCTS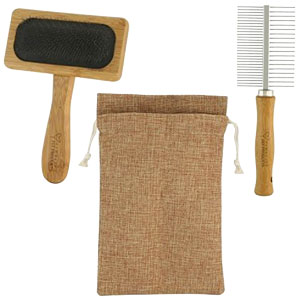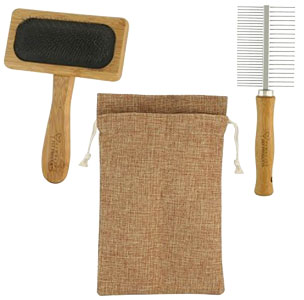 Bamboo Pet Grooming Set
Bamboo products have been all the rage lately, and are expected to drive even more revenue with more consumers being interested in eco-friendly products. What better way to give your customers this popular product than by offering it for their fur babies? The double-sided pin-comb and pin-slicker brush features a comfortable bamboo handle, easily penetrating deep into fur babies' coats. A storage bag also comes with the bundle.
Sunrise Wholesale Merchandise
Tel.: 877-250-5045
www.sunrisewholesalemerchandise.com