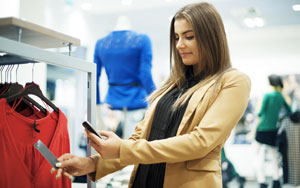 For local retailers, five-star ratings aren't all they're cracked up to be. In fact, five-star shops actually earn less yearly revenue on average than retailers with a 1 to 1.5 star rating. The star-rating sweet spot for revenue is between 3.5 and 4 stars. This is just one finding from a new study from Womply, a small business software company, on the impact online reviews have on revenue at local retail businesses.
Womply's data team conducted an in-depth analysis of transactions and online review data from Yelp, Google Reviews, and Facebook, among others, for more than 38,000 local retail businesses in every state. Here are some of the key findings from the study:
Claiming Review Profiles Equals More Revenue
Retail businesses that claim their free listings on three review sites or more earn 21 percent more revenue, and those that don't claim their listing on any review sites earn 22 percent less revenue. As many as 21 percent of retail shops haven't claimed any of their free listing profiles, which is kind of a crazy high number since the listings are free to claim.
Google is the most important free listing site for retailers. When retail shops claim their free listing on review sites, it gives them the ability to reply to reviews, add helpful information about their business, and plenty of other tips that clearly make an impact on curious customers.
Response Rate Matters
75 percent of all retail businesses in Womply's study haven't responded to a single review, and those businesses earn 6 percent less in annual revenue. Once a shop engages with their customers online by replying to reviews, revenue starts to go up. Businesses who responded to even just one review earn $18,000 more each year than the average retailer.
More Is Better
The star rating doesn't matter as much as the number of reviews. In fact, retail businesses with a rating between 3.5 and 4.5 stars earn more revenue than any other rating and 5 star shops earn less in revenue than 1 to 1.5 star shops. So with star ratings out of the way, the Womply study findings suggest that indie retailers should focus more on how many reviews they have.
Retail businesses have an average of 43 reviews on review sites. Those with more than the industry average of 43 total reviews earn 26 percent more in annual revenue, while those with fewer than 43 total reviews earn 7 percent less in revenue than average. In addition, businesses with more than 200 reviews earn 46 percent more yearly revenue than the average business.
It's OK to Have a Handful of Detractors
Customers crave authenticity in a review profile, so they expect to see some negative reviews. This means that they are real reviews from real customers and you didn't just get your relatives to write something nice.
On average, 16 percent of reviews retail businesses receive are negative, which is slightly less than the 19 percent average across all industries. Retail shops whose reviews are 0-5 percent negative earn 13 percent less than average, and businesses that average 35-50 percent negative reviews can earn 8 percent more yearly revenue than the average retailer.
Genuine customer reviews are a crucial part to surviving in the retail world. To see more of the study findings from Womply, you can visit www.womply.com/impact-of-online-reviews-on-small-business-revenue/retail.