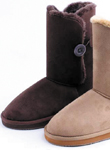 Having already met with success in one retail channel, an established supplier of comfort shoes is moving into more fashionable footwear. The firm is offering that line to shoe stores and boutiques, a departure from its usual customer base. Star Bay Group, an importer and exporter, specializes in comfortable, casual footwear. The full product list includes all sorts of moccasins, beaded and sequined slippers, sports sandals, indoor shoes, and more. Now that the lines will expand to include designer footwear.
According to Star Bay's Jenny Jin, the company is pursuing a dual strategy. "We have two lines," she explains. "One is for the fashion market, which is a little bit more expensive, and the other is for discount and off-price stores. So we are targeting two markets." The addition of a fashion line is new this year, and will be a major strategy for 2011. "Next year our designs will be much more fashion oriented than before," says Jin. "This is our new thing. We started selling to those stores this year."
Star Bay continues to be devoted to its longtime customers. "Right now the main stores we sell to are the off-price, discount, and 99 cent stores. Those are our main target," Jin adds. "The second target is the stores that carry fashion shoes." And the addition of the designer options means more choices for all customers. The company is expanding in other ways as well. One such new initiative is the addition of a line of socks. Star Bay also appeals to a wide range of customers by offering sandals and boots for everybody. "Many wholesalers may only carry items for ladies or men, but we cover men, ladies, and children," says Jin.
Moreover, the company remains a source for high margin product. "Our prices are very competitive," says Jin. The proof of this is in a high level of customer satisfaction that Star Bay has earned, as shown by the many retailers who come back to buy again and again. "We get a lot of reordering," says Jin, and the company has made it easy to reorder: "That's how we set up our database," she explains.
Star Bay keeps customers happy with other retailer friendly policies. For one, the minimum order is, "only one case." Orders can be made via the website, telephone, fax, or email, and Star Bay accepts credit cards, as well as wire transfer payments. Payment terms for individual accounts are negotiable, and damaged items can be reported within ten days of receipt. Orders are shipped within one day, provided the items are in stock. "And within a certain area, in New York and New Jersey, we give free delivery," says Jin.
Star Bay boasts a fully stocked showroom and warehouse in Hackensack, NJ, where potential customers can directly browse the company's large assortment, of over 500 varieties. In addition, there is always the website at www.starbaygroup.com.
For products, Star Bay Group turns to its very own manufacturing center in China. The company also does business with many domestic shoe factories as well, to ensure a steady flow of styles that are passed along to customers. In addition to being able to browse these items online, customers can also order a catalog directly from the website.
For more information:
Star Bay Group Inc.
400 Railroad Ave.
Hackensack, NJ 07601
Tel.: 201-678-1688
Toll Free: 888-882-5588
Website: www.starbaygroup.com