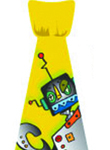 Individualism begins at a young age, and with Nude Fruit's evREware Sticky Ties, children can wear their uniqueness right on their shirt. Two mothers with creative backgrounds in photography and graphic design began their hunt in 2010 for a reusable material meant for decorating and dressing. Their search revealed evREwares, a 100 percent biodegradable, polyester fabric adhesive that is weatherproof (water and temperature resistant). Cut into the shape of ties and bow ties, the sticky fabric turns plain T-shirts into works of art. Ties are offered in 60 original designs, and bow ties in eight.
Retailers and Parents Love Re-wearable Ties
According to Ellie Brown, director of sales, "Sold at $2.50 wholesale and retailing for keystone, retailers including kids' boutiques and toy stores find a large customer base of moms looking to add a little fun and flare to their children's clothes." Candy stores have even picked up on the craze, and offer ties featuring candy favorites such as Nerds and Gummi Worms that have become increasingly popular. For all retailers, a minimum order of $100 is required, and a free POP pegboard display is offered with any order of $250 or greater. There is also a 12 prong countertop spinner available for $100.
The product is simple to use and promises up to ten wears, if directions are followed; unworn ties can be stuck to a wall, mirror or desk when not being worn, never leaving a residue. Parents are warned against laundering the ties, as well as allowing any contact with sand or cashmere. Besides proper care, the product comes with a worry free guarantee. Parents do not have to be concerned with chocking hazards, lead, or their child pulling the fabric off without parental supervision. Brown adds, "Whether your kids are mad for plaid, crazy about candy, or into creepy crawlies, there is a design for everyone." Ties are even designed with girls and babies in mind, and the baby tie set makes a great shower gift. Retailers can carry the 12 tie set (one for each month) for $11 wholesale. Each tie offers an age appropriate image for each month of a baby's first year, in color choices of pink or blue.
For more information:
Nude Fruit dba evREwares
9650 Strickland Rd., Ste. 103-196
Raleigh, NC 27615
Tel.: 317-340-0344
Fax: 317-769-0408
Website: www.evREwares.com