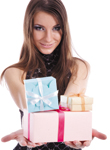 Gift suppliers and their customers have a positive outlook for 2011 sales, as the economy continues to improve. It takes strategy and planning to be successful in the gift industry, whether in a middle of the recession or during economic recovery. It's a challenge, but cost conscious wholesalers are prepared, and that preparation makes all the difference for retailers looking to make profits and meet their customers' expectations. One optimistic gift supplier is Charles Pugh, co-owner of Henry Brandt & Company. "It's about knowing your market," he says. "Everybody is looking for an advantage in the marketplace, especially as the economy is still recovering. A business in the gift industry can survive and meet customer demands best by supplying discounted products."
Know Your Market
The discounted merchandise offered by Henry Brandt & Co. includes greeting cards, inspirational books, journals, inspirational gifts and home décor. The company currently sells to discount independent retailers and medium sized chains nationwide. Carrying more than 5,000 skus, the company's biggest seller is its extensive line of greeting cards, followed by inspirational books, journals and inspirational gifts. Henry Brandt & Co.'s effort to make the best of reduced spending by both retailers and consumers has led the firm to supply top quality, name brand merchandise for about 75 to 95 percent off the manufacturer's suggested retail price, on almost every item available.
In business since 1966, Brandt & Co. is a second generation closeout dealer that had its beginnings in a garage. "My father-in-law, Henry Brandt, started his own business in Chicago after selling his corporation," says Pugh. Brandt liquidated bank-incentive leftovers from promotions. "That led him into the wholesale business, where he met some merchandise brokers in the Chicago area," Pugh says. "On a subsequent trip to Branson, MO, he fell in love with the area and moved his business there." The company evolved into one of the leading Hallmark closeout dealers in the U.S. in the 70s and early 80s, and found its niche in the gift industry.
It is Henry Brandt's long-standing discounted products that have kept the company in the forefront over the past few years, even during its rebranding campaign, resulting in the renaming of the website as, "Inspirational Wholesale." Greeting cards are Henry Brandt's most popular inspirational merchandise, available in over 3,200 designs from the number one and two inspirational card manufacturers. Pugh notes, "We sell name brand greeting cards for $0.25. Our handmade cards are $0.30." Items available at such low discounts, like the products found on "Inspirational Wholesale" 24/7 virtual online wholesale showroom, provide retailers the opportunity to carry cards, books, journals and gifts in their stores at great price points for customers, while still allowing for healthy profit margins. "Retailers who buy from us enjoy a tremendous amount of markup, depending on their operation," Pugh says. "Sales for our customers can be very good based on our competitive pricing."
Tim Smith, president of SJT Enterprises, notices a similar trend of lower price points in today's gift stores. "Years before the recession, the magic number used to be about $20 dollars, but with retail customers shopping on a budget, the new magic price point is around $10." Smith admits, at one time SJT Enterprises' wooden plaques weren't a hot item for gift stores, as they retailed between $7.99 and $9.99. Now, these Made in the USA plaques, featuring witty sayings about popular dog breeds, sell well to gift stores, drug stores, and pet stores looking to sell gifts at reasonable price points. Smith adds, "With a wholesale value of $2.79 each, retailers are still meeting healthy profit margins and marketing better to their customers during a time of economic recovery."
While SJT carries other products, including sports related signs, magnets with sayings, and pub signs, the wooden pet plaques are by far the best selling item. They are made at company headquarters in Ohio. There is a sign for each of the 91 dog breeds that reads, "Welcome." There are also signs that carry humorous messages along with the dog images. Among them are, "Love is being owned by a (picture of dog breed)," and, "A spoiled rotten (breed name) lives here." Smith mentions that a sign with a personalized picture insert is a new product in the forefront. The minimum order is $100. A free, "Love & Laughter" floor display is offered with an order of 192 units. Retailers who mention Independent Retailer Magazine during time of purchase also receive free shipping. Smith, confident in the newfound success of SJT's wooden pet plaques and their reasonable retail price point, mentions, "We have a program in which we guarantee that after 120 days, if you haven't sold 50 percent or more of your order, we'll take it back with free shipping. The terms and conditions can be accessed on our website."
Mary Caraffa, sales manager of United Joy USA, is also keeping a close eye on the economy and its effect on the gift industry and customer purchases. "Besides the fact that my customers are looking to market gifts priced below $20 for their frugal shoppers, I know the retailers purchasing from me are also restricted by a tight budget. So, I've reduced my minimum order from $200 to $100." United Joy specializes in novelties and gift items, including beautiful treasures made of glass, wood, and crystal. The glass and crystal paperweights, cubes and engraving blanks sell best. Each are available with the option to customize. Many customers choose to have their glass items engraved, etched, or personalized with their company logos.
Plain glass and crystal merchandise offered by United Joy ranges from $1 to $10 wholesale. Retailers can expect to sell the products anywhere from $1 to $100. Caraffa notes, "While consumers in today's economy continue to buy lower priced gifts, the opportunity to personalize the gift and make it unique could encourage them to pay more." Luckily for retailers purchasing from United Joy, custom designs are also $1 to $10 wholesale, like the plain glass and crystal merchandise, and retail consumers enjoy the same low retail prices. Whatever a retailer's merchandise needs, United Joy offers unique treasures to fit all budgets, whether items are purchased individually or in bulk. A comprehensive list of products and pricing can be obtained through the company's online catalog.
Manager of Handcraft Texas, Joe Carillo, also recognizes a retail consumer's willingness to spend above the typical price point if a gift is unique enough. Carillo could be considered an expert in unique gifts, as Handcraft Texas specializes in handmade, decorative wire items. According to Carillo, "The idea for a business began about 30 years ago when I started selling wooden jewelry boxes. Then I added wire decorative pieces, which just took off." Now Handcraft Texas only sells these decorative wire gifts, including baskets, bird cages and dress forms. Among the company's best selling product lines are the dress forms and hat stands, most selling between $2 and $5.50 wholesale. Handcraft Texas' products, while unique in design, can be characterized as raw with the opportunity for further customization. Carillo explains, "Sometimes retailers purchasing from me try and make the raw product even more unique. For example, some put fresh flowers in the baskets I supply, or put dresses on the dress forms. The additional character added to these products entices a consumer to spend more than today's typical gift giver, sometimes up to $100."
As all Handcraft Texas' products are designed and made by hand, there are no starter kits for gift shops and home décor stores looking to carry the company's product lines. Carillo says, "New customers can call directly requesting samples, in which there will be a $5 service charge. The samples should give the stores a good idea of what would sell best." Retailers looking to make a purchase are required to place a $50 minimum, and should call Handcraft Texas for other discounts based on volume and type of items to be purchased. While Carillo is positive of consumers' willingness to spend more money on a product that is custom, unique and full of character, such as a cupcake ferris wheel he recently handcrafted, Carillo is also noticing another trend in the gift industry. "French themed items are hot right now. If it's French themed, customers can't seem to get enough," remarks Carillo.
While Brian Black, sales manager of BL Gifts, isn't noticing a French theme craze from his interested buyers and their consumers, he is noticing another trend. "The most popular gifts today are usually $20 and under, but quite often serve a secondary purpose," notes Black. While BL Gifts sells a lot of wildlife and fantasy giftware, its salt and pepper shaker sets and wine bottle holders are by far the top sellers, as they are gifts that serve a functional purpose. Black comments, "With money being tight, people want to buy something that is functional as a gift. For example, many people will buy our wine bottle holder and package it with a bottle of wine." Interested retailers are ensured a healthy profit margin, at least keystone the wholesale price, while still remaining within the budgetary constraints of their customers. For instance, BL Gifts' wine bottle holders wholesale for $7.50 a case, and retail around $10.50 to $11 a piece.
Black comments, "Our wholesale prices range, since we have some fancier and bigger gift items, but we try to stock plenty of items that meet that under $20 mark that retailers are looking to obtain." With only a $50 minimum order that can be mix and matched anyway preferred, retailers can supply their stores with a variety of gifts to meet their market demands. Black promotes the company website as the best way for interested retailers to research his products. "We work to make everything as visible as possible on the website, since shoppers usually do their research online before talking to somebody. We don't want them jumping through channels and hoops to get the right information." Both piece and case prices are listed on the website, which can be accessed without a required login.
Sassia Hollenberg, president of Universe of Energies Distribution, reaffirms the recognizable trend among gift suppliers, saying, "The economy is still an issue. Retailers are looking for more lower-end gifts and prices, and are expanding their shelves to those of us who can meet their needs." And while Universe of Energies Distribution carries products that wholesale anywhere from $0.08 to $150 wholesale, it is the products that meet the lower retail price points, while still providing a healthy profit margin of double or triple wholesale price, that have retailers placing orders. Beginning in 2006, Universe of Energies Distribution has worked to keep its prices low by purchasing directly from the manufacturer, importing its metaphysical and feng shui product lines from all over the world, including China, India and Brazil.
Universe of Energies Distribution has over 2,500 products available in its warehouse in Arizona, including the popular metaphysical healing wands and Zen gardens. Hollenberg points out, however, that there are more than two best selling items, saying, "There are a plethora of best sellers, as it all depends on the retailer's market. For some, pendulums do well, or crystal balls and healing wands." The website also lists all items in stock and includes a full listing of the company's 30 plus product lines. Volume discounts and frequently changed specials are also available online.
Conventional wisdom dictates that during sluggish economic times, the less necessary an item is, the more likely consumers are to eliminate it from their budgets. It would be understandable, therefore, if it was assumed that it has been a somewhat bumpy ride for those in the business of selling gifts and novelties. Yet, birthdays, weddings and holidays never stop popping up on the calendar, meaning the act of gift giving is here to stay. While it certainly has been no walk in the park, wholesalers and gift suppliers have found ways to keep their products moving, and retailers have continued to meet the demand of their frugal customers.
For more information:
Henry Brandt & Co., Inc.
8017 East State Highway 76
Kirbyville, MO 65679
Tel.: 417-334-0988
SJT Enterprises, Inc.
28045 Ranney Pkwy. Unit L
Westlake, OH 44145
Tel.: 440-617-1100
Toll Free: 800-326-7419
Website: www.greatstorestuff.com
United Joy USA
10309 Vacco St.
South El Monte, CA 91733
Tel.: 626-448-5035
Handcraft Texas
121 North 21st Street
McAllen, TX 78501
Tel.: 956-630-2717
BL Gifts Imports
PO Box 282
2077 Pennington Road
Warriors Mark, PA 16877
Tel.: 814-632-3137
Website: www.blgiftsimports.com
Universe of Energies Distribution
11340 W Calle del Sastre
Casa Grande, AZ 85294
Tel.: 480-250-1585