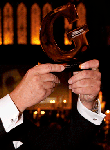 Supermarket News reports, "The average American is spending 7 percent less each month on groceries and $94.60 on a routine trip compared to $98.70 in 2010," indicating that independent and local grocery shops have to work harder to keep customers coming, and more importantly, spending. American grocers, however, aren't the only grocery retailers feeling the effects of a sluggish economy. The BBC reports that, "UK retail sales fell 1.4 percent in May. Households remain heavily indebted and are eager to reduce, rather than add to their debt burden." While independent grocers in the U.S. look to implement reward programs and innovative smartphone apps, you may ask, what are some U.K. grocers' tactics to taking the recession head on. The Scarborough-based Proudfoot Group would claim that making strategic choices to remain sustainable is the key!
Strategic Thinking and Innovative Investments to be Awarded
Once a growing supermarket chain with its roots in Scarborough, the Proudfoot Group has been reduced to four stores, making it an independent retail grocer facing the same challenges as other independents on High Street. Owners, Ian and Mark Proudfoot, however, are happy to accept the honor of the Grocer Gold Awards 2011 for Independent Retail Chain of the Year, as they know despite economic hardships their investments have paid off. The awards ceremony took place on June 15 at London's Guildhall. The event recognizes the best of the best in grocery retail for service, initiative and commitment. Among some of the winners of this year's awards were Morrisons, Tesco, and Coca-Cola Enterprises.
What landed Proudfoot Group the winning spot in the category of Independent Retail Chain of the Year? Simply stated, judges applauded the grocer for its investment in the future. The Grocer reports, "Proudfoot never lost site of its sustainability commitments and continued to make strong progress in reducing its carbon emissions. Its flagship Seamer store was described as 'world-class' by the judges, with Proudfoot managing to reduce emissions by 33 percent last year."
While some may view a history of 17 stores reduced to four as a loss, the Proudfoot Group has strategically sold its branches such as Withernsea and Barton, and by doing so, has gained a stable platform for the future. Four stores still produce profits, and currently the company is trading very well, distributing 28,000 color leaflets every three weeks, promoting in-store offers. Also, according to the Proudfoot Group's company website, careful management and communication are also important when it comes to economic hardship, noting, "the company has developed its own software, which controls the company from its head office, to the store's back office, to the laser scanning software the customer sees when purchasing goods." It's every store for itself on Main Street USA and the U.K.'s High Street, and sustainability is something earned through strategic thinking and innovative investments.