By Chris Harle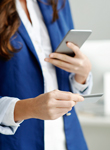 Technology has always played a very important role in retail, both in helping to deliver better customer experiences as well as in driving greater operational efficiencies from within the business.
While small business retailers are now exposed to opportunities that would have been unimaginable in the days before the internet, the challenge is that sales have also become increasingly complex to manage in this new omni-channel environment.
Easy-to-use tools and tips are, however, giving more and more companies a fighting chance in this competitive market. Here are some of the simplest steps for improving user experience.
Customize the customer experience
The informed modern customer expects a lot from their online shopping experience. For example, they want to be able to review their choices or postpone their purchases to when it suits them.
Tech-savvy e-shoppers now have certain expectations for their online customer journey; they have experienced easily manipulated, cross-device baskets and flexible wish list functions that allow them to share with friends and family. They expect complete customizing control, and will typically be frustrated by anything less. Giving your customers the power to control their experience will only build a stronger relationship with them.
Offer guest checkout
This one should be a no-brainer, but many online retailers still don't offer the option.
Retailers want to gather as much customer data as possible to know who is visiting and shopping on their site, what they're interested in, what their personal circumstances are (e.g. single or family purchaser) in order that they can tailor the website to meet customers' specific needs. But this can be a good example of the business goal taking precedence over the user need and enforcing a compulsory registration with additional fields will inevitably result in a larger number of basket abandonments.
An Econsultancy survey found that 26% of online shoppers said that being forced to register made them abandon their purchase. Vendors should work on a balance between a customer-centric foundation and customer tracking tactics and look for ways to smooth out the barriers to purchase.
Keep forms short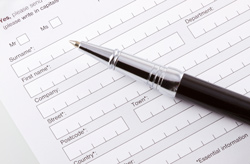 One of the key usability considerations of forms is how hard you make the user work to enter their data. A recent PCA Predict survey found that 84% of shoppers would abandon their goods if the online checkout were too complicated. This is a clear message for retailers to simplify the checkout process.
Although customers usually understand the necessity of a data exchange, long forms, inflexible compulsory fields, and poorly navigable pages immediately put users off – causing an unwanted drop-off rate.
At PCA Predict, our core service significantly reduces form friction while providing complete and verified data so the retailer can provide the best possible customer experience. This may seem like a shameless plug, but it's what we do and we know the results well. Many of our customers who have run A/B testing in their checkouts, have seen that reducing the level of manual entry required through the use of verification tools, significantly reduces the effort and time required to complete this traditionally onerous part of the checkout. Not only this, but they are assured that they are capturing accurate and up-to-date customer data at the point of entry. It's a win-win.
Make shipping costs clear
According to an Online Shopper Survey conducted by UPS, 58% of all abandoned purchases were due to high shipping costs. Shoppers frequently feel put off by hazy details about shipping, from the fees not being clear in the overall cost to the shipping time being too long for the price on offer.
This vague approach to shipping costs will put off consumers and risk a loss of trust in your brand. Alternatively, clearly stipulating the associated costs of each shipping option (and what you need to do to qualify for free shipping) from the outset will generate a better completion rate on payments and faith in the retailer.
Alternative payment options
Plenty of online payment platforms have entered the market to streamline ecommerce transactions, giving retailers simple platforms with secure checkouts. Using this to your advantage will ensure that shoppers trust that the payment will be simple and secure. However, bear in mind that your customers have just as many individual preferences for payment as they do product. Therefore, retailers should consider offering different payment options, whether it is traditional credit or debit card transactions or new streamlined platforms like PayPal or Amazon Payments.
In international markets, offering local payment options is vital to converting visitors into customers. In many territories Visa, Mastercard and Paypal do not own the market like they arguably do in the UK. Ignore these local "norms" at your peril. For example, in Germany EVL and Sofort are the market leaders with the UK Big 3 having a comparatively small share.
Be one step ahead; predict
As ease and speed are the keys to a successful customer experience, especially through the checkout process, utilizing predictive tools can help satisfy the customer by doing much of the legwork for them. They should not be penalized for making errors or not memorizing addresses.
By listening to the needs of their customers and reducing the obstacles for the sake of speed and accuracy, retailers will open the door to easier transactions. This in turn will improve reputation and build lasting relationships. A loyal customer will be your biggest advocate if you get the shopping experience right. Now that user experience tools are more accessible, retailers of any size can start making small improvements for significant returns.