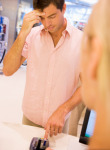 Retail merchants suffered more than $139 billion in losses due to fraud last year, incurring $310 in costs for every $100 in fraudulent transactions. That's according to a new study from LexisNexis Risk Solutions, which also found that consumer victims of retail fraud also incurred $5.5 billion in costs from un-reimbursed losses, legal fees and other factors.
The study, formally titled the "LexisNexis True Cost of Fraud Study" looks at how fraud affects storeowners, banks and shoppers. But in the one bright spot in the findings, it was revealed that fraud losses fell 25 percent when compared with 2009.
Among the findings, the study found that:
Merchants who accept mobile payments saw the highest volume of fraudulent transactions;
Fraud appears to have a disproportionate impact on large merchants;
More than 1 in 3 consumers who were victims of fraud will avoid certain merchants;
"Friendly fraud" accounted for one-fifth of fraud affecting merchants.