by Jon VanZile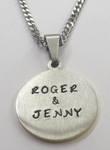 Heather Zinkl, sales manager at Sun Fashion Designs, knows a good thing when she sees it—and for Sun Fashion that means stainless steel jewelry. "We recently went into stainless steel ring stamping and it has been great for us," Zinkl says. "For the last seven or eight years, rings have been popular, and these stainless steel stamped rings are the best-selling concept I have seen in a very long time."
The rings are ideal for today's highly personalized, price-conscious market. Every ring is customizable by the end customer, who can dictate what will be stamped on their piece of jewelry. Besides making the customer's happy, this highly custom approach has another benefit: big profits. "The rings cost less than $2 to produce individually, but after people customize them, you can sell a ring for $20 or $30," Zinkl says. "You have got millions of small businesses wondering what the next trend is, and this is it."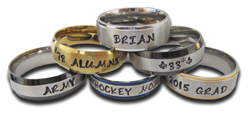 In fact, Sun Fashion is expecting to continue expanding its line of customized products. In the near future, the company plans to introduce a line of stamped pendants. They will be available in stainless steel, black, blue, gold colored, rose gold, and a rainbow. Outside of stamping, Sun Fashion is seeing strong retail sales of chains by the inch, including the large, heavy chains that were popular a decade ago but fell out of favor as the price of gold rose to record highs.
"I think people have adjusted to the high price of gold," Zinkle says. "The stars are wearing heavier, thicker gold again." Sun Fashion is also seeing increased sales of long, dangly earrings with Swarovski crystals. According to Zinkle, all of these trends signal the "end of the recession."
Buying Sun Fashion Products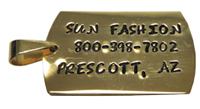 Sun Fashion is an established wholesaler of jewelry, including chains by the inch, sterling and stainless jewelry, stamped jewelry, necklaces, earrings, and other types of jewelry. The company has a reputation as a quality wholesaler with a strong history of working with retailers to set up profitable jewelry programs. "We are known for assisting customers with great sales information," Zinkl says.
Wholesale pricing is available on the company's website or by calling Sun Fashion directly. The company prides itself on competitive pricing for precious metals, low minimum orders, original designs, and superior customer service.