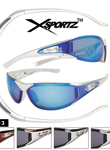 Sunglasses started to become more popular in the early 1900's, especially among movie stars. As a result, modern day sunglasses are in vogue as a fashion accessory, bought for their designs, colors and shapes, rather than for necessity. While sunglasses are one of the easiest ways to protect eyes from damage from the sun, the fashion accessory has a more glamorous purpose in the eyes of wearers. It's this glam factor that has kept Kachina LLC in the sunglass market for a decade, giving retailers and their customers access to the newest looks, as well as great varieties in the hottest trends, at affordable pricing. "We have repeat customers because we offer value and an exceptional line of products," says Guy W., V.P.
Categorized into four tiered collections, Kachina's line of products have something for every look and every personality. The Iron Collection offers style and affordability. The Silver Collection carries those trendy seasonal looks. Then there is the Gold Collection for a more bold and refined choice, and the Diamond Collection is specifically made for the fashion driven buyer. And while style may be at the top of a wearer's list of priorities when purchasing sunglasses, protection is still the purpose. "We let our customers know that behind the fashion there is still that UV 400 Protection that will keep their eyes protected," explains Guy.
Kachina's fashion forward line may drive sales, but it is the company's customer service that keeps customers. "We specialize in tailoring our products and ideals to match our customers' needs in the present, and develop programs that have led to long relationships," says Guy. With a minimum order of ten dozen, retailers are able to display more than ten options. "Our minimum orders offer maximum options in variety, because our sunglasses come in sorted dozens with the most popular colors and designs of the season," he adds. "Many times one style can have from two to six variations." Sunglasses selection is not the only variety Kachina offers, as displays for product placement are also numerous. From the D-120 that holds up to 120 pairs of sunglasses to the smallest display that holds 12, Kachina can accommodate any size space.
As 2012 begins and sunglass season is about to arrive, Guy remembers that while sunglasses are a necessity, they are a large part of everyone's spring and summer wardrobe. Just like a handbag, consumers want what is in season. "This year, we feel people are looking for something fun, with great function," he says. "Bright colors are going to be trendy, while a throwback to traditional shapes will make a strong comeback." For retailers looking to revitalize their inventory with this year's fashion forward designs at the ASD show in March, Kachina will be offering a 30 day money back guarantee, price match guarantee, free shipping for orders over $1,000, and a free gift.
Like Kachina, Pacific Link is forecasting a similar fun and functional fashion season for sunglasses in 2012. In fact, its spring fashion line will be featuring bright and neon colors, as well as animal prints. Updating its previous 900 plus skus, the company plans to continue with 600 of its best selling styles, and add 200 plus new styles to this year's line. "Our goal is to update our inventory so that our customers can do the same, and offer the most up to date trends in the sunglass market," says Ron Bryan, sales and marketing director.
Pacific Link, however, does plan on continuing its own sports sunglass line, Element 8. Updating offers every month, the company still finds that sport glasses continue to be a big part of the business. No matter the style, "the wholesale price averages about $24 a dozen, with discounts offered for quantities," Bryan says. Even with an update in inventory, the pricing structure will remain roughly the same. "We will continue to offer discounts to first time customers, and as always, pricing will be customized for every retailer purchasing from us," Bryan adds. Pacific Link's business model is simple. "We sell to anybody who buys wholesale sunglasses. It could be jobbers, convenience stores, department stores, or kiosks in the mall," notes Bryan.
Pacific Link knows that customers need information about the variety it offers, especially regarding new products. To that end, Pacific Link's website, www.sunglassespacificlink.com, launched a new redesign in January, serving as an invaluable news and buying aid. "Customers can go there and look at every product we have," Bryan says. There is also an option to see upcoming styles. Keeping up with constant change is a part of the company's success. "We keep up with the current trends, which seem to change every two or three months," says Bryan. "Whether it be an Aviator or a Colored Wayfarer, we just try to stay on top of current trends."
In business since 1998, Pacific Link has expanded into an international operation. "David Chin, a Chinese born American, started the business in the back of his parents' restaurant. Beginning when sunglasses were just becoming hot in the accessories industry, Chin has grown his business and contacts, and now has a 40,000 square foot warehouse in Georgia," notes Bryan. Actively seeking new business, Pacific Link is willing to cater to customer needs. "We do specials from time to time when we appear at tradeshows, but we're willing to work with anyone, whether they are looking to order one dozen sunglasses or 1,000 dozens." A call to the company allows for quick qualification, and a product and pricing list is sent out to start the process.
Also a veteran in the industry, witnessing the rise of sunglasses as a hot accessory item, is CTS Wholesale. Kirk Bachelder, president, boasts an impressive 29 years experience in the sunglass business, but it is his familiarity with the retail and wholesale industries that makes him such a successful supplier. "Our main mission at CTS Wholesale is to help new entrepreneurs or business owners succeed in the sunglass business," he says, and that means more than supplying today's hottest styles and fashion trends. "We have everything it takes, from displays to accessories and much more," he adds.
For 2012 CTS plans on continuing with its best practices, focusing on fashion, functionality and top of the line customer service. Finding a niche in sports sunglasses, CTS foresees a good market for its Xsportz line in the new selling season. And at a wholesale price of $1.33 per pair, retailers also foresee a good selling season, expecting to make a hefty profit retailing these sunglasses for $8 to $12 per pair.
Over the years, sunglass suppliers have experienced increasing difficulty in providing popular styles and designer products, as well as competitive pricing. However, CTS offers a Designer line that gives retailers the ability to stock designer styles such as aviator and wayfarer sunglasses at affordable prices. "Bachelder notes, "Carrying the CTS Designer line means providing your customers with fashion-forward attitude, without the price tag. Keeping these great shades in stock means having the most desirable merchandise on hand, and available for immediate sales." With no minimum order, retailers also have the opportunity to verify the quality of CTS' sunglasses before placing a larger order. "We know that our products are top quality, and once our customers and their customers have the opportunity to see them, they will know too," says Bachelder.
For CTS, it's about satisfying the customer. "Customers of CTS Wholesale can be assured that our staff has first hand knowledge of not only the product, but the venues in which they sell. It is with this understanding of the industry from both sides that lends itself to our dedication to customer service, prompt shipping and low pricing," Bachelder notes. He takes pride in selling and shipping to many different types of retailers, including gift shops, convenience stores, mall kiosks, and more, believing his products are marketable in any venue. "We are noticing many distributors coming into the marketplace are drop shippers," Bachelder says. "It makes it easy for us to set ourselves apart, being a direct importer with a large selection, and being able to work directly with our customers."
Also successful in its deliverance of top of the line customer service is PR Sunglasses, a sunglass distributor for over 25 years that has learned to focus on service in a fickle, fashion-forward industry. "It is not easy to predict what will be the new hot product. We are constantly watching the fashion media to follow up on new trends," says Janice Chien, sales manager. "Our mission is to provide the most current fashion trends in the sunglass industry, with good quality, competitive pricing, and most importantly, customer service. The customer always comes first with us, which is why they keep coming back."
PR Sunglasses carries thousands of sunglass styles, including its best selling Sports Wraps, Lady Fashion Frames and Reading Glass lines. Last year, the Aviator and Wayfarer lines were popular, a trend Chien believes will continue into the spring of 2012. "However, while everyone was looking for "retro" styles last year, in 2012 more colorful frames will be popular," she adds. And for low wholesale prices ranging from $13 to $36 per dozen, retailers can offer these new neon styles and make a decent profit margin at $5.99 to $24.99 retail per pair. In addition to numerous styles, colors and varieties of eyewear, PR Sunglasses also carries cords, cases, and countertop and floor displays to better showcase its lines. Minimum orders start at $100, and most orders ship on the day they are placed. "We do provide volume discounts for customers who buy in bulk," adds Chien. Pricing is available on request, and new registrants to the site only need to provide a Tax ID number to begin ordering.
After 20 plus years, Screamin Dealz' claim to fame in the sunglass industry is its name brand PUGS Sunglasses. "Since their introduction in 2005, over 32 million PUGS name brand sunglasses have been purchased," says Brent Bartholio, wholesale manager. "They are available in many styles; aviator PUGs, casual women's PUGS and especially activeware/sports PUGS are among the most popular." Like many sunglass wholesalers, Screamin Dealz claims to stay up on the latest trends, many times getting ahead of trends, allowing the company to be a trendsetter in the industry. But unlike many sunglass wholesalers, Screamin Dealz boasts another level of quality not typically found in the market it serves.
The quality of the PUGS line has been compared to luxury brands retailing at $60 to $70. However, Bartholio assures independent retailers that Screamin Dealz works closely with conveniences stores, boutiques and other independents selling unique products at bargain prices. "On average, we easily sell sunglasses for $1.50 to $2.50, with a suggested retail of $14.99 to $19.99," he adds. Currently there are two programs in place. Retailers can either inquire about clearance or liquidated styles, offered with a plastic rack that holds 44 pairs; or, a slightly more expensive program in which a retailer purchases the newest lines a little over average wholesale cost, receiving a free wooden display that holds 36, 72 or 108 pairs. The minimum order is a 144 pair case pack, which includes shipping.
While many of the sunglass distributors we spoke with made mention of bold and bright colors for 2012, Bartholio pointed out some other up and coming trends. "Wider lenses will continue to grow in popularity," he notes. "And as always, those streamline sports sunglasses will sell well." It was no surprise that like many of the other sunglass wholesalers forecasted, Screamin Dealz couldn't deny that Aviator Styles were still a hot trend for the 2012 season.
Wholesale Sunglasses Palace began a little over a year ago in December 2010, with the idea to be a one stop shop for any retailer looking for trendsetting wholesale sunglasses. And while still working on marketing items such as POP displays and starter kits, owner, Todd Kolb, has already made Wholesale Sunglasses Palace a unique and rewarding place for retailers to stay up on the latest trends, and purchase some great deals. Kolb boasts a current product line of 750 skus, with another 200 skus to be added when the sunglass season hits. And while many retailers are familiar with the casualwear, activewear, aviator style categories, Wholesale Sunglasses Palace has well over 30 style categories, and many with unique designs. "Among some of our most popular categories are the Fit Over sunglasses that are to be worn with a person's regular glasses, as well as our Sheek Urban, Original Gangsta and Tattoo sunglass products," says Kolb. Looking to present a playful and practical line, Kolb admits to staying up on trends through multiple resources, whether it be tradeshows, magazines, Internet sites, or quite often through talking with manufacturers and sunglass wearers on the street.
Too often, trends are generalized, maybe because it is about what's hot in Hollywood. As a result, Kolb has also turned his focus to targeting different regions. "What's hot in New England may not be a top seller in the South," he adds. His website offers retailers Hot Seller Packages, targeted for markets in specific regions. And with no minimum order requirement, buyers are free to test market with the company's products before committing to any larger orders. "At Wholesale Sunglasses Palace, we understand that your investment in wholesale sunglasses must provide consumers with high-end choices, without paying the price. That's why we offer uncompromising quality and style conscious products at such affordable and competitive pricing." With most styles wholesaling under $4 a pair, customers easily enjoy consistent profit margins of 500 to 700 percent.
As the new season approaches, Kolb is aware of some of the more unique trends that will soon hit the market. "Cat eye sunglasses will be in, as will white plastic frames and other bright colors such as blue, yellow and red," he says. "It's all about making a statement." Gradients and round lenses were also among some of his predictions for the 2012 sunglass selling season.
Now is the time to start stocking up on high profit sunglasses, whether your customers are looking for fashion, sport or simply everyday styles. The season is calling for bright, bold, fun and functional, and those wholesalers with a fashion forward eye will help in updating your spring line, and do so at highly competitive prices.
For more information:
Kachina LLC
1640 East Edinger Avenue # L
Santa Ana, CA 92705
Toll Free: 800-550-1231
Tel.: 714-550-0209
Website: www.kachinallc.com
Pacific Link
1223 Coronet Drive, Ste 3, Dalton, GA 30720
Toll Free: 866-824-0079
Website: www.sunglassespacificlink.com
CTS Wholesale, LLC
3525 Brady CT. N.E., Salem, OR 97301
Tel.: 503-364-3486
Toll Free: 800-796-3486
Website: www.ctswholesalesunglasses.com
PR Sunglasses
7596 Harwin Drive, Houston, TX 77036
Tel.: 713-975-8252
Toll Free: 800-777-7656
Website: www.prsunglasses.com
Screamin Dealz
215 N 1800 W, Lindon, UT 84042
Tel.: 720-325-8533
Website: www.screamindealz.com
Wholesale Sunglasses Palace
Tel.: 855-786-8500
Website: www.wholesalesunglassespalace.com