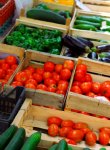 More than half of small retailers surveyed believe there is a growing "buy local" movement in the U.S., and an additional 55 percent believe that such campaigns can help small businesses compete in challenging economic times. The findings were uncovered in the "OPEN Retail Economic Pulse" survey conducted by American Express.
The survey also found that most small retailers (57 percent) are planning local campaigns in 2011, and one in five also say they plan to give more of their business to local businesses this year. Additionally, more than one third (36 percent) of small retailers surveyed say the biggest incentive for consumers to buy at local, independent businesses is "better customer service." The second biggest incentive is supporting the community by creating local jobs (16 percent).
The results of the survey come at a time when small retailers are still concerned about the state of the economy (just 38% think the economic outlook will improve over the next 12 to 18 months) and have trepidations about hiring (just 33% plan to hire over the next six months). Other findings from the survey include:
Small retailers are leveraging local review sites like Yahoo Local and Yelp, as well as social media.
Men are more likely to believe "buy local" sentiment is growing than women.
"Buy local" is not a phenomenon restricted to the coasts: small retailers from the north central states are more likely to believe "buy local" sentiment is growing than any other region.