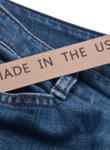 A new survey of shopping Americans shows that a "Made in the USA" tag on an item can significantly increase a buyer's chances of making a purchase. The recent Adweek Media/Harris Poll survey showed three in five Americans (61%) say they are more likely to purchase something when the ad touts it as "Made in America" and only 3% say they are less likely to buy it.
The survey also uncovered some other interesting findings. To wit:
Age plays a role with how likely someone is to buy American; the older one is, the more likely they are to do so.  Three-quarters of (75%) U.S. adults 55 and over say an ad emphasizing a product is "Made in America" would make them more likely to buy that product.
There is also a regional difference. Two-thirds of Midwesterners (67%) say they are more likely to purchase such a product.
National pride is something that can always work and Americans are proud of the products made at home.