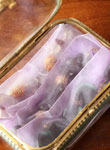 The Necklace Saver is a patent-pending product designed to keep necklaces tangle free, at home or when traveling. Made from lightweight, iridescent pastel organza, the product is fashioned into a sleeve, or tube, that is open on both ends. The consumer slips an unclasped necklace into the sleeve holding one end, grasps the other end of the necklace at the bottom of the sleeve, brings the two ends together and clasps the necklace closed, and ties the ends of the Necklace Saver.
Anna Kazanchyan, MD, created the Necklace Saver. "Twisted jewelry is not fun. We all know how frustrating it is to deal with tangled necklaces. I love to wear necklaces that I design, and I often travel with my entire collection. My many attempts at keeping my necklaces tangle-free while at home or on the go, in pouches, in boxes or by wrapping each necklace in a paper towel, were not successful. My necklaces either got hopelessly tangled into knots, or my jewelry boxes filled half the suitcase. In addition, it took me forever to open each box to find the necklace I wanted. That is why I had to solve the challenge of tangled necklaces."
The Necklace Saver is available in three widths—one inch, two inch and three inch—and two lengths—one for necklaces up to 22 inches long and another for necklaces up to 30 inches in length. The product can be used by itself in a drawer, purse or suitcase, or in a jewelry box or on a jewelry tree. It allows necklaces to retain their circular shape, and it is transparent so there is no need for consumers to unwrap each necklace to find the piece they want to wear. The one-piece pack wholesales for $3.60 and retails for $7.95, while the two-piece pack wholesales for $6.95 and retails for $13.95. The Necklace Saver comes in attractive, hangtag packaging, which displays product images and detailed instructions.
Since its launch in early 2013, the Necklace Saver has received rave reviews in media including Beauty Style Watch, Independent Miami, The Daily Buzz, Cleveland, OH, NBC affiliate WKYC-TV and the Examiner. The product is available to retailers from Armenicus Life. A portion of every sale is donated to orphanages around the world.
Where to buy:
Armenicus Life
Email: wholesaleinquiries@necklacesaver.com
Website: www.necklacesaver.com