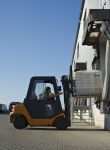 Beginning this week, the nation's second-largest discount retailer, Target, is rolling out a new initiative called "The Great Save," intended to boost its lagging business in tougher times.
"As we round the corner here post holiday, our guests are looking for ways to get back to everyday life, to stock up on the basics that they use all the time," said Target EVP of Merchandising Kathee Tesija in a Reuters interview.
In previous years at this time, Target traditionally focused on offering home furnishings and accessories as part of temporary events like its "Global Bazaar". However, the company's profits have reportedly dropped during the recession, as consumers dwell more on necessities like food and medicine, as opposed to home decor and fashion items.
The goal for Target now is to create a "warehouse-club-like experience", offering "big box" items in the space where seasonal merchandise is typically sold. The idea is to sell bulk products at prices similar to warehouse stores like Costco and B.J.'s, without the membership fees required by those outlets.
The Great Save is planned to continue for seven weeks, through the end of February, offering deals such as 35-packs of bottled water for $3.59 and 24-packs of toilet paper for $17.99. The merchandise will be laid out on tables, or displayed on pallets. The event is not planned to extend beyond late February, but the retailer has indicated that some products could be added to the chain's regular assortment if they prove sufficiently popular with shoppers.
With a perceived overlap of shoppers with those of the warehouse clubs, Target hopes to boost its revenue using a short-time focus on necessities, thus stressing the value aspect of its messaging.