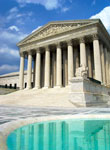 The National Association of Convenience Stores (NACS) co-hosted a teleconference October 22 to discuss the proposed swipe fee settlement submitted for approval earlier this year. A growing number of associations and retailers among the plaintiffs in this class action suit are voicing opposition to the settlement, including the National Restaurant Association, the National Grocers Association, Jetro Cash & Carry Enterprises, NATSO, Affiliated Foods Midwest and others.
According to the NACS Daily News, participants in the call acknowledged the uniqueness of forcing a settlement subject to objections from such a large number of affected parties, insisting that approval of the settlement would constitute a breach of due process. As it presently stands, the deal on the table requires MasterCard, Visa and the banks to reimburse as many as seven million retailers for interchange fees that averaged around $0.44 per transaction, and to provide an eight-month fee discount. The settlement would total $7.25 billion, with $6.05 billion going directly to retailers and $1.2 billion accumulated by the temporary swipe fee reduction.
The NACS found the following procedural issues with the proposed settlement:
– Lawyers filed the settlement without first obtaining client approval.
– Lawyers failed to address significant client concerns.
– The involved plaintiffs wish to serve a broader purpose by shedding light on retail issues via an actual trial.
Additionally, teleconference participants discussed the possibilities of surcharges and the effect of price fixing as a direct result of the settlement. "The settlement is complex and difficult for small businesses to navigate and therefore realize benefits," the NACS said. "The issue remains critical for small businesses, with swipe fees being the fastest-growing business expense." Should the settlement make progress, merchants will have 30 days to file the aforementioned objections and attempt to pursue a trial in court.