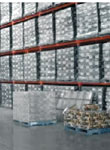 The Bargain Warehouse has delivered brand name liquidations from major department stores to secondary market retailers for more than 15 years. The company started when founder Gary Bingham spent a few hundred dollars to purchase pallets of liquidations, which he then sold out of a small storage facility. Now Bingham has a business plan that helps retailers buy and sell pallets or truckloads online, utilizing The Bargain Warehouse's buying power and marketing support to jumpstart their own bargain stores. The firm operates a program to help interested individuals establish an online business, offering guidance for marketing practices, prospecting customers and setting up a web catalogue. More information on the program is available on thebargainwarehouse.com.
"You could start small, purchasing just a few pallets at a time, or broker large loads all over the world," VP of marketing, Gerry Hunt, remarks. The Bargain Warehouse operates out of a 300,000 square foot facility in Myrtle Beach, SC, and Hunt foresees ample growth in the coming year. "We were stronger in 2012 than in 2011, and have budgeted ourselves for a 15 percent growth in 2013, based on economic and industry factors we have observed during recent months." Among the factors contributing to The Bargain Warehouse's projected growth is the changing treatment of holiday selling. "The season started prior to Black Friday for retailers and liquidators alike, on the day after Halloween rather than the day following Thanksgiving," says Hunt. "I think that buying patterns have moved retailers to stop relying on a single day of sales events to bring their numbers into the black for the year. It has become clear that people are always looking for the best possible deal, and awareness of this motive should be on a retailer's mind at any given time of year."
The company's product quantity and content is in direct relation to the outcome of holiday sales for retailers in 2013. "A fairly robust year is anticipated, and big box stores are ordering a lot of product to meet that need," Hunt points out. "However, if those retailers do not see the expected results, there will be a great deal of surplus product, which works out perfectly for The Bargain Warehouse." The firm contracts with these stores to purchase the excess in bulk, by either the truckload or pallet, and then sells the lots on its website.
Another indicator of heightened activity for The Bargain Warehouse's coming year is the return of layaway programs by many of its closeout sources. "As of late, we have seen many stores revitalize such programs, after having put that option on pause," Hunt notes. Some sources say that revamping layaway programs earlier in the shopping season is a sign of steady, marginal sales increases, because consumers are less hesitant to buy more expensive items if given a longer period of time to pay for them. In addition, the demand for American liquidations overseas influences business at The Bargain Warehouse. This year, the U.S. Department of Commerce announced that American exports reached a record monthly high in the first quarter, with apparel, food products, accessories and home décor among the most popular American items purchased.
The Bargain Warehouse continues to see the number of buyers looking to shop the secondary market for purchases on the rise every year. "As a result, the discount merchandise industry is at an all time high, so it's a wonderful time for retailers who are in this market," Hunt concludes. "Anyone can earn a profit."
For more information:
The Bargain Warehouse
5033 Dick Pond Road
Myrtle Beach, SC 29588
Toll Free: 866-372-6950
Tel.: 843-294-2622
Website: www.thebargainwarehouse.com