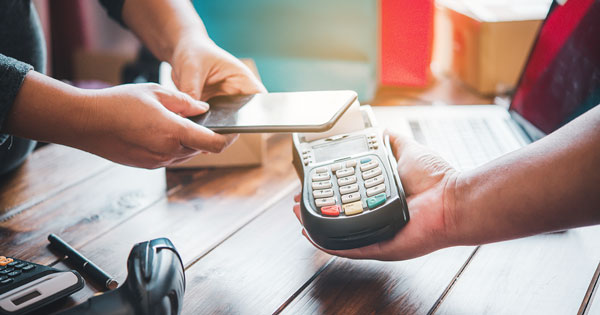 The COVID-19 pandemic has drastically changed the way consumers shop and pay for goods. Between buy-online-pickup-in-store, mobile, and tap-to-pay payment options, the checkout experience has become so frictionless that many experts believe this will be the way of the future post-COVID.
The majority of retailers have adopted a checkout-free payment system or are currently in the stages of implementing one. The percentage of merchants in the U.S. that now accept contactless payments has risen to 58 percent from 40 percent last year, while those accepting mobile payments from digital wallets has gone up to 56 percent from last year's 44 percent, according to research released by the National Retail Federation.
Fast, Easy, & Safe Checkout Options
There are many benefits to retailers installing touch-free payment systems within their brick-and-mortar storefronts. A major plus is the convenience of the checkout experience for customers. Making checkout safe and easy for in-store is what shoppers want, according to Val Vacante, Director of Strategy at LiveArea. Since 74 percent of global consumers will continue to use contactless payment options post-pandemic, indie retailers must find solutions that are easy to use.
LiveArea has recently launched LiveArea Scan & Go, an app-free contactless checkout technology that retailers can launch in just weeks, and there is no fumbling with branded mobile apps. This technology can help businesses attract new customers who are concerned with social distancing, sell more items with fewer associates, and create a better experience for consumers by eliminating checkout lines.
Saving You & Your Customers Time
Checkout-free payment systems also reduce transaction time, since employees do not have to handle payments and customers no longer must sign for transactions, according to Joe Scioscia, VP of Sales at VAI. Retailers can reduce checkout lines and avoid the need to hire additional employees during shopping surges to keep up with the checkout congestion. Contactless payment systems enable employees to focus their time and attention on ensuring shoppers are having a positive in-store experience, leading to higher customer service and a boost to the bottom-line.
"As we get into more contactless or mobile transactions, I think the ability for retailers to accept multiple forms of payments will give them more flexibility and the speed of the transaction will be much faster. That's an area where the retailer can save some time at the point of payment." David Wilkinson, President and GM of NCR Retail, said. Even though paying for and installing these checkout-free payment systems can seem like a huge added expense, it definitely pays off in the long run.
Affordable Touch-Free Payment Options
"For small, independent store owners, checkout-free payment systems can seem daunting. However, whether it's chip-enabled cards that your customers can use by tapping against your point-of-sale terminal, or mobile wallets that your customer might have on their phone or QR codes that can be scanned to complete a transaction, there are several options available" said Scioscia.
Small business owners should feel confident that there are contactless payment solutions that will fit their individual needs, according to Scioscia. Systems such as PayPal Here and Shopify POS allow these businesses to bring the contactless online experience into the physical storefront, in a straightforward way. Indie retailers can also utilize POS systems offered by an enterprise resource planning (ERP) solution, which helps them eliminate long checkout lines and automatically sets up customer accounts online, which gives consumers one more way to shop with them.
How To Get Started
Before a retailer can accept contactless payments, Scioscia suggests that sellers ensure they can process customers' transactions in a secure, efficient manner. To accept touch-free payment methods, such as contactless cards and mobile wallets, merchants need an NFC-enabled payment terminal and a payment processing platform that accepts payments from mobile wallets.
"When looking at payment platforms, businesses should be confident that these tools facilitate digital invoicing and payments. Digital invoices contain links that allow buyers to pay online using ACH, a payment card, or an online payment provider like PayPal. If an operation does not want to start over, but has an accounting software they trust, those respective tools may offer a POS system that supports contactless payments like QuickBooks GoPayment," Scioscia said.