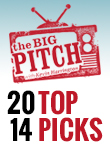 The ASD Show offers non-stop opportunities for vendors to have brand exposure. At the August 2014 show in Las Vegas, ASD hosted the new TV shopping show with Kevin Harrington called The Big Pitch. Here, Harrington selected six ASD vendors to mentor after hearing numerous presentations from ASD's exhibitor base. These companies appeared on the FOX Business Channel on Saturday January 31, 2015.
The program is a hybrid of Home Shopping Programs and Shark Tank, in that after watching the presentations made to a panel of entrepreneurial experts, viewers were given the opportunity to go online and order the products from these six companies.
Be sure to go to www.thebigpitchtv.com to check out the Top Picks from ASD, order the products and learn more about how your company could take part in The Big Pitch.