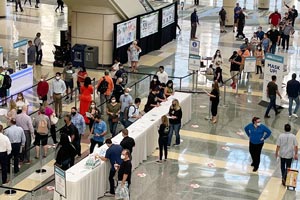 ASD Market Week is the grand slam of trade shows. They offer an affordable shopping destination, with over one million product lines and more than 1,500 vendors to choose from. No matter what you sell, this is the show to find great products to stock your store.
Experience ASD Market Week live and in person on February 27 – March 2, 2022 at the Las Vegas Convention Center. Retailers can shop from nine trade shows in one central location that will feature 19 different retail categories from vendors located around the world. If you attend this trade event, you will find:
High Margin Merchandise. ASD is known as the Affordable Shopping Destination, with up to 300 percent margins and extraordinary savings on the show floor.
On-Trend New Products. Ensure you are expanding your merchandise mix and building your bottom line with the post-pandemic trends your customers are excited about. Vendors will be offering the hottest, trend-setting items to keep your store fresh.
Wide Selection. Every price point, every category, no excuses. Come for the products you need and the best-sellers you have yet to explore. Get up close and hands-on with merchandise that will drive traffic, sales, and profits.
Education and Networking. This trade show will have industry experts and networking events for retailers to take advantage of to stay ahead of your competitors.
All in One Place at One Time. ASD Market Week is the largest and most comprehensive merchandise buying show in the U.S. They also boast one of the largest wholesale collections of CBD and private label products in the U.S.
ASD happens twice a year in Las Vegas, Nevada. Each year, their trade show hosts 25,000 attendees from over 90 countries. From department stores to convenience stores, general stores to gift shops, from grocery store distributors to fashion boutiques, this event is an all-inclusive destination for any retailer to find unique merchandise that will set their store merchandise apart and provide great sales margins. Attendees can also network with each other and meet with retail industry experts in order to learn how to sell more products online, drive foot traffic in their stores, and improve their general business operations. To register today, visit their website at www.asdonline.com.
ASD Market Week
February 27 – March 2
Las Vegas Convention Center