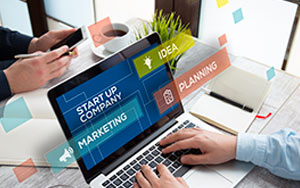 By Brett Shapiro
The retail industry offers a plethora of opportunities for budding entrepreneurs to explore. If you are thinking of starting a retail business, you need thorough planning and preparation before you enter the market.
Before making the plunge, you have to make several decisions on finance, procurement of products, employees, and marketing, among others. One of these decisions is to choose the right business structure for your retail brand, which could be a key factor in determining the success or failure of your business.
Here is a brief overview of all the three kinds of business structures that can help your retail brand:
1. Sole Proprietorship
When embarking on a new venture, starting a Sole Proprietorship could be your best option. This business structure is simple and easy to get started with. It can be established, run, and owned only by a single person. Here is why many entrepreneurs thinking of starting a retail business may prefer Sole Proprietorship:
Easy to form
Less paperwork
Complete control
Dynamic and flexible structure
Tax advantage
A direct and personal relationship with customers
While a Sole Proprietorship gives you the flexibility of starting a retail business and running it on your terms, it also has a few limitations such as limited growth prospects, bigger liabilities, and more stress on personal assets that may work against you.
2. Limited Liability Company (LLC)
LLC, or a Limited Liability Company, is among the most popular business entities for small businesses, and for obvious reasons. This business structure brings together the simplicity and flexibility of a Sole Proprietorship with the protection of a Corporation. Some of LLC's top benefits are:
Personal liability protection
Less paperwork
Operational flexibility
Limited corporate restrictions
Flexibility in allocating profits and losses
Legal business entity
When forming an LLC, it is important to have a business account to manage all your financial transactions. However, when it comes to expansions, LLCs can suffer. Finding funding is not easy and the same applies to going public. For this purpose, Corporations are better suited.
3. Corporations
A Corporation is a legal entity that you can establish while starting a retail business. Shareholders are the owners of a Corporation, however, it is the Board of Directors who are in charge of all the operations. If you are aiming to start a retail business that will have several branches or franchises, a Corporation is the most appropriate structure for you.
It is easier to raise capital for a Corporation since investors have limited liability and their personal assets are protected too. That said, a Corporation has a complex structure and needs to pay a variety of taxes. Thus, it may not be the preferred choice for a retail business.
Which Business Structure Would You Choose?
Sole Proprietorship, LLC, and Corporation — all three types of business structures have their own advantages and disadvantages. When starting a retail business, you should take into consideration all these factors along with your company requirements. Check out this infographic by GovDocFiling to get a clearer understanding of each business entity and make a wise decision.

Brett Shapiro is a co-owner of GovDocFiling. He had an entrepreneurial spirit since he was young. He started GovDocFiling, a simple resource center that takes care of the mundane, yet critical, formation documentation for any new business entity.