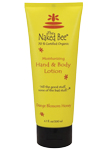 Naked Bee is a wholesale manufacturer of natural body care products. With a slogan of "All of the good stuff, none of the bad stuff," The Naked Bee's products are all paraben-free, made without propylene and mineral oil, free of any dyes or pigment, do not contain lauryl or laureth sulfate, and absolutely never test on animals. The results are high-quality, organic hair, body, lip, face, and home products mainly made from honey and beeswax.
However, for The Naked Bee, "the good stuff," extends far beyond their product line. "Over the past several years, scientists and environment groups have noticed a decline in the honeybee population," says Melissa Taylor of The Naked Bee. "Bees are leaving their hives and dying out," she continues. So, The Naked Bee developed Operation Pollination, a campaign combating the declining honeybee populations. "Operation Pollination is partnering with retailers across America to educate consumers on the importance of honeybees and other pollinators to our environment," Taylor continues. Scientists believe that honeybees are dying out because they do not have enough resources to survive. Operation Pollination provides packets of wildflower seeds for planting. "By planting the seeds, we are providing additional food resources for bees. It's a small step to support their environment," explains Taylor. "As we work together with our retailers by providing free seed packets, we are making a difference across the country together."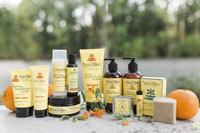 Earlier this year, Operation Pollination supported the Texas Discovery Gardens in Dallas, TX by sponsoring their honeybee tree exhibit. "This is a real, working hive that shows visitors what goes on 'behind the scenes,'" explains Taylor. "The hive is accompanied by signage telling visitors the importance of bees to our environment and what they can do to help." The Discovery Gardens gift shop also offered free wildflower seed packets for visitors to "take home, plant, and make a difference in their own backyard."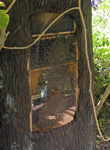 In 2015 alone, The Naked Bee and Operation Pollination distributed 20,000 seed packets nationwide. "In 2016, we grew in a big way and have distributed over 30,000 seed packets," says Taylor. "We are finding more and more people want to make a difference so we expect to see the number of packets we distribute continue to grow." Taylor and her team encourage all participants to share pictures of their seeds and flowers on The Naked Bee social media pages to help spread the word about declining bee populations.
The Naked Bee exhibits at many trade shows throughout the year, including IGES, AmericasMart, Philadelphia Gift Show, NY NOW, ASD, and more, so you can meet their team and test their products first-hand. For more information on Operation Pollination, view a complete tradeshow listing, or set up a wholesale account, visit www.NakedBee.bz.