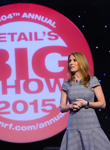 With over 33,000 people in attendance at the Jacob K. Javits Convention Center in New York City, the National Retail Federation's annual Big Show was a hit. With the 104th show under their belt, this year was bigger than ever housing numerous international guests, hundreds of sessions and miles of EXPO. To take a better look at how "big" the Big Show really was, here are some stats from this year: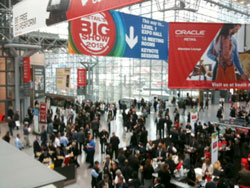 • 87% of attendees played a role in purchase decisions
• 34% of company purchases on products seen at the Big Show was an estimate of $250,000 or more
• 23% of attendees have responsibilities in the information systems and technology categories
• 15% of stores or businesses in attendance were in the specialty/apparel category
From businesses in apparel and technology all the way to grocery stores and online retailers, there was something for every attendee at the NRF show. Surpassing the 2013 attendance, the total number of retailers certainly grows each year. The Big Show, ran from January 11 to 13, 2015 included keynote speakers from the NRF and companies speaking on a variety of different topics such as eCommerce, customer engagement, and the future of digital. Check out some of these pictures to see what went on at the Big Show and what you can expect for next year!