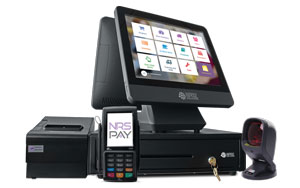 NRS operates a point-of-sale (POS) terminal-based platform across the USA, plus NRS Pay credit card processing for independent convenience, grocery, liquor, tobacco, hardware, beauty supply and gas station c-stores. The POS boasts robust hardware with a user-friendly merchant touchscreen and customer-facing display, along with powerful software tools to help retailers compete more effectively.
The POS system offers inventory, sales and user tracking, remote store management via app and merchant web portal, and a free, built-in customer loyalty program. Optional Premium Features include eCommerce (shopping app and store ordering website linked to the POS), Tobacco Scan Data, Government ID Scanning, Modifiers, Customer Tab, Advanced Data, Employee Time Clock, and more. The newest POS Premium Feature is the Emergency Call Button, a silent alarm triggered on the POS to call for police assistance. Retailers can learn more at nrsplus.com.
For Gas Stations
The NRS Petro solution for gas stations includes a pump-integrated POS system with NRS Pay credit card processing, plus a clean, affordable EMV compliance retrofit solution for gas pumps. Upgrading to NRS Petro does not require any major renovations or business downtime. Retailers can learn more at nrspetro.com.
Credit Card Processing
NRS Pay credit card processing integrates seamlessly with the NRS POS or can be used as a standalone service for any business. With signup, the customer gets a FREE credit card reader with a commitment of ZERO hidden fees, NO long-term contract, and NO early termination fee. Two great-rate programs are available: Clean Rate and FeeBU$TER (similar in concept to a "Cash Discount" program). Rapid Same-Day Funding is an available add-on. NRS PAY EBT Unlimited! allows storeowners to — for one low flat monthly fee — offer unlimited EBT transactions with zero swiping fees. Retailers can learn more at nrspay.com.
Funding
NRS Funding offers business cash advances, from $2,500-$500K. Funding can be used for renovating, upgrading equipment, payroll, and more. The application and approval process is quicker than a conventional bank loan and cash can be available as soon as 24-48 hours from approval. Retailers can learn more at getnrsfunding.com.
Referrals
National Retail Solutions recently expanded its Refer-A-Friend program to include new, exciting products and services. As NRS' offerings continue to grow and expand, so do opportunities for earning money by referring new customers. The referral process is as easy as submitting a form at nrsplus.com/refer.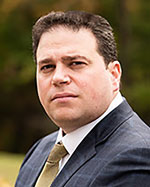 Elie Y. Katz, founder, president and CEO of National Retail Solutions, says, "Since 2014 when NRS was built, we have stood by our commitment to helping Mom 'n' Pop businesses survive and thrive amidst Goliath competition. We recognize the serious need of independent retailers for technology to help them be more efficient, organize their store, attract customers, and increase revenue. COVID-19 hit many retailers hard with reduced foot traffic and staffing challenges. We continually add time-saving and revenue-generating features to our POS, to help our customers adapt their business within these changing times. The NRS POS and NRS Pay credit card processing are game-changers for the independent retail arena. We are excited for our customers who tangibly benefit from what we offer."