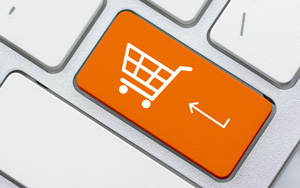 by Shannon Flynn
It has become easier than ever to find any product or service with a few strokes of the keyboard. Online shopping is booming and has been since the early days of Amazon, and the COVID-19 pandemic has only strengthened the ecommerce industry as more customers went online to order everything from groceries to home workout gear.
The Growth of Ecommerce
According to Statista, the industry is expected to reach an estimated $5.4 trillion by 2022. One of the clear pros for customers using ecommerce sites is the convenience factor. It is easier than ever to order items online and have them delivered within a couple of days. In the same token, it has also become much easier for companies to establish an online presence and bring their products to a digital platform. Some of them offer unique, valuable data insights that could influence business decisions. Additionally, using different platforms, such as an ERP system, can assist businesses with handling the common pain points that come with growth.
What to Look for in an Ecommerce Platform
It can be challenging for businesses just entering a new market to know which platforms are worth investing in to help grow their online presence. There are plenty available — keep in mind that popular sites like eBay or Amazon are not always suited for a small business. There are other platforms that fit a company's unique needs, and knowing which ones are worth the time and money without any prior knowledge is challenging.
Here are some key features ecommerce platforms should have that can help businesses reach the next level:
Affordable cost
SEO
Scalability
Mobile-friendliness
Site speed
User experience (UX)
Software integration
All these factors contribute to the overall success of ecommerce platforms. The one that meets all these criteria may be the right choice, depending on the business using it.
5 Best E-Commerce Platforms in 2022
Here are five examples of the best ecommerce platforms, including pros, cons and price.
Shopify is arguably one of the best ecommerce platforms available to entrepreneurs. More than one in four stores use it to power their business. Shopify is known for its easy user interface and customization options, and brands can utilize Shopify's drag-and-drop features to bring an ecommerce store to life.
Pros
Great UX and design
Fast loading times
Reliable customer support services
Cons
Not great for SEO
Costly for beginners opening an e-commerce store
Price: Starts at $29 per month
---
BigCommerce is a sophisticated platform that can transform an ecommerce store and is perfect for hosting large and growing businesses. It is one of the more popular platforms, serving over 60,000 online stores as of June 1, 2021.
Pros
Advanced features
Strong SEO tools
Modern and dynamic themes
Cons
Expensive for high-volume sales
May be too advanced for a beginner
Price: Starts at $29.95 per month
---
WooCommerce, known as the largest ecommerce platform designed for WordPress, is a viable option for those just starting in the industry. It has a diverse range of themes for users to choose from, and one of the best features is that it is free to download, with paid options available.
Pros
Free to download, paid options for more features
Experienced WordPress users will have ease using the plugin
Great for SEO
Cons
Poor customer service
Adding on extensions can cause slower site speeds
Price: Free to use, extension prices vary
---
Magento
Some of the world's largest brands, such as Nike, Samsung, and Ford, use Magento as an ecommerce platform. Established retailers ready to take their business online should use Magento for their services. It is an open-source solution that is free to download from Adobe.
Pros
SEO friendly
Multiple customization options
Scalable
Cons
Certain plans are expensive
Need to find a separate hosting provider
Price: Themes start at $25 and go up to $500
---
Wix is a website builder with built-in ecommerce capabilities. It is easy to use for beginners and best suited for small businesses.
Pros
24/7 customer support
Drag-and-drop interface
Hundreds of designer-made templates
Cons
Missing some features that would be useful
Dropshipping unavailable
Price: Three price plans ranging from $23-$49 per month
Finding the Best E-Commerce Solutions for Independent Retailers
Consider using one of these ecommerce solutions to fuel business growth and establish a strong online presence in the retail sector. Think about the factors that contribute to the overall performance of these platforms and what kind of plan best suits the company's needs.