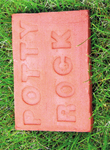 Training a dog to "go" where you want it to has never been easy, but a Buffalo, Minnesota company has taken some big strides to do just that. M&B Products manufactures the Potty Rock(tm), a scent-infused block that once placed in the location of your choice, attracts dogs to urinate and defecate in that area and in doing so keeps them off neighbors' lawns and out of gardens. The Potty Rock(tm) works well on both puppies and older dogs and males and females. "We had a place in Florida and one of our older dogs got loose and soiled a neighbor's property," says William LaPlant, inventor and CEO of the Potty Rock(tm). "Needless to say they were upset so I set out to do some research to see if I could train my dog to "go" where I wanted him to go." LaPlant contacted a chemist in Illinois and explained his idea and after several prototypes came up with something that worked. "I put the first Potty Rock(tm) across from my town home in Florida and sat and watched that spot," LaPlant says. "Every dog that walked by relieved itself there."
LaPlant then went into production and has never looked back. Since launching his first product he estimates he has sold between 70,000 and 80,000 Potty Rocks(tm), but never to big box stores. "I prefer selling them to the smaller stores, the mom and pops," he says. "We're also in about 40 different catalogs and we sell 40 to 50 a day on our website, www.pottyrock.com." The Potty Rock(tm) retails for $14.95 on the website however, M&B Products offers quantity pricing for retailers and special wholesale pricing as well. The Potty Rock(tm) can be purchased individually and shipped to your door, or can be sold by the case, with 30 individual packaged Potty Rocks(tm) and sealed with a UPC, ready for retail.
Realizing there is a strong market for this type of product, LaPlant is branching out, now selling Garden Guards to keep critters out of a home garden, Mosquito Guard to repel bugs from decks, patios and boats, and Cat Scat to keep unwanted cats out of flower beds and window wells. Preliminary development has begun on other products as well so watch for their availability in the future.
For more information:
The Potty Rock
M&B Products
1605 Highway 55 East
Buffalo, MN 55313
Tel.: 763-202-4514
Website: www.pottyrock.com