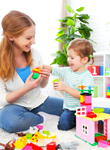 Fall Toy Preview® is The Toy Association's marketplace where savvy decision-makers from mass, long-lead, independent and specialty retailers come to preview product for next year's all-important holiday season. In just three days under one roof, buyers interested in previewing playthings of all kinds can shop hundreds of brands with one or more lines to reveal for Q4 2018 delivery, October 3rd – 5th.
Produced by The Toy Association, the annual show consistently draws a considerable crowd of global buyers who flock to the Dallas Market Center to preview thousands of compelling playthings shown by creative toy companies more than a year in advance of in-store delivery.
Notable retailers at the 2016 event included Walmart®, Target®, Toys"R"Us®, Amazon.com, Kmart®, Michaels Arts and Crafts®, and A.C. Moore®. Dozens of licensors were also on hand, including 20th Century Fox®, Cartoon Network®, Disney® Consumer Products, NBC Universal®, and Nickelodeon®. Hundreds of toymakers showcased new and developing product lines in open, closed, or combination booths and showrooms.
"Fall Toy Preview remains a 'must attend' event for everyone in the toy and play community," says Marian Bossard, senior vice president of global market events at the Toy Association. "Our participant base continues to broaden, with strong international representation and buyers from across the industry eager to tap into the show's business, trend-spotting, and networking opportunities as they plan for the following year's all-important fourth quarter."
Attendee and buyer registration for the upcoming event can be completed online. The Toy Association has secured hotel rooms at reduced rates to make the trip affordable for Fall Toy Preview participants. Visit www.ToyAssociation.org for details.