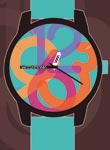 Flashy, detailed watches rank high with consumers this year, as many people wear them to make fashion statements, as well as to keep track of time. "People will change their watches based on their activities or outfits on any given day," points out Natalio Saks, owner of Watchmania. The most sought after watches add a waterproof splash of color to the wearer's ensemble, or offer the look of a luxury Swiss timepiece at a fraction of the cost, Saks explains. To meet this need, the company offers a vast assortment of quality watches with these features.
Watchmania's Mambo line offers playful face designs complemented by colorful bands. Face numbers generally follow a 12, three, six and nine format, either as words or bold numerals. Retailers with tween and teen customers may see more demand for the three most colorful designs in the Mambo collection, items MA11, MA12 and MA4. Each watch features a silicone wristband and a black stainless steel face case. For customers who prefer statement colors, the Twister line offers bright bands like those in the steel Mambo collection, but also features matching silicone face casing for a chunky neon look. Animal print faces are also an option.
Color dominates men's accessories this year, and watches are no exception. Orange and yellow are popular picks, and Watchmania incorporates both into its Aviator collection. Designed to resemble compasses, Aviators are available with black or white silicone bands and gray, orange, black or white faces with orange or yellow markings. Watchmania's Gran Turismo line also delivers a pop of color, and is available in black or white, with bright red, yellow or blue details. The Marine line blends the color options of Gran Turismo watches with the style of the Aviator into 14 combinations of red, blue, orange, white, black and gray.
Most of Watchmania's products are water resistant to 50 meters. "We use scratch resistant crystal faces for all of our products," Saks notes. "We also use nylon rather than plastic bands, because nylon offers increased durability and flexibility. The dial, luminescent marks, bezels and steel components of every watch receive a great deal of care during manufacturing to deliver the best possible quality." The average wholesale price for a Watchmania piece is $28, and there is no minimum order. Suggested retail is two to three times wholesale, and bulk discounts are available. Watches worn as fashion accessories are gaining popularity with consumers this season. Retailers who, like Watchmania, answer to this prominent trend can increase sales and profits.
For more information:
Watchmania
36 NE 1st Street, Suite 734
Miami, FL 33132
Tel.: 866-280-7312
Visit: www.watchmania.us