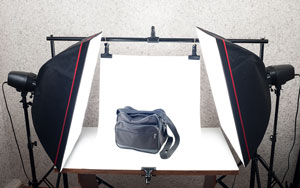 Having high-quality photos is no longer a luxury for retailers, but a necessity. 90% of the information transmitted to our brain is visual. So, no matter how detailed your product description is, the quality of your photo can make or break a sale.
Use Your Smartphone. A high-quality camera helps, but it's not necessary. You can take high-quality product photos on your smartphone, especially if you have a newer version.
Opt for a White Backdrop. You can purchase an affordable backdrop online, or visit the local drugstore and purchase some white paperboard. It works just as well. Whichever backdrop you opt for, just make sure you choose pure white instead of off-white.
Shoot Outside for Natural Lighting. Shoot on an overcast day or mid-morning to get the perfect level of soft sunlight.
Use Natural Light Whenever Possible. Since you're not shooting in a studio with professional lighting, natural light is your best friend. If shooting outside isn't possible, try placing your setup next to a large window with plenty of natural light.
Purchase a Clip-on Lense. If you're doing a lot of detailed product shots, a clip-on lense will help you take close-up shots without distorting the product.
Include Lifestyle Shots. You definitely want studio or "solo" shots of each product on a white background. But, also take photos of your products in action. These will be great for social media and marketing campaigns.
Shoot From Multiple Angles. Make sure to take pictures of each item from all sides. Customers will want to see a product from every angle before purchasing.
Showcase Multiple Sizes. If you sell apparel, be sure to take photos that reflect a variety of sizes. Customers want to see what your products look like on someone who is similar to them.
Don't Zoom In. It's tempting to zoom in on close-up shots. But, doing so usually diminishes the photo quality and results in a blurrier photo. Instead, take the photo normally and crop it later.
Use a Table. Setting up your backdrop on a table instead of on the floor will make the process a lot easier and offer better angles for your photos.
If a picture is worth one thousand words, what are your photos saying? After upgrading the pictures on your website and social media platforms, hopefully they are saying "Buy Now." Quality product photos are proven to increase sales, so taking the extra time to do a quality job will be well worth your while.