Gifts and toys are big sellers year-round for all kinds of celebrations, special occasions and birthdays. Top suppliers stay ahead of the game by keeping abreast of trends, and continually expanding their offerings of new products designed to sell. The following is a peek at gifts and toys being introduced this year and exhibited at the ASD show in Las Vegas, March 16-19, by Nostalgic Images, Big Mouth Toys and Opportunity Buys. These wholesalers are well-known for their creative ideas and novel products.
Nostalgic Images
Nostalgic Images offers a line of metal signs and other novelties, and recently acquired $2 million worth of Gearbox brand collectible die-cast pieces. "Gearbox is not in business anymore, and manufacturers are not making much die-cast, which makes these products very desirable," reports Bill Westrick, president. "While you don't see as much die-cast in the marketplace as in the past, they are still highly popular." Pieces include Tokheim vintage style gasoline pumps, trains, airplanes, Corvette, Cadillac, Pepsi, Pennzoil, John Deere and others. Each unit is about 3.5 inches long, and products are available in six-piece sets and individually. Many are shipped in a 24-piece display of one category that may comprise different models. "We offer very good value, price and display in all our products," Westrick adds.
Nostalgic Images obtained the die-cast collectibles around the first of the year, and will feature them at the ASD show in March, along with Coca-Cola models and working collector train sets. In addition, the company will offer the improved Pocket Roaster external barbecue fork, now available with an 8-inch glow in the dark handle. "That will be a big item for us at the Las Vegas show," Westrick comments. Nostalgic Images has been attending ASD since the 1990s. "It has a variety of attendees, and everybody wants to find new items and get ready for a new year."
Big Mouth Toys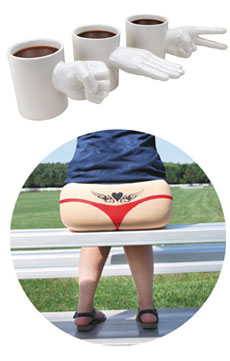 Big Mouth Toys designs, creates and produces humorous novelty items. The company presently has more than 500 products, and introduces 30 to 50 new items per year, while retiring others. Steve Wampold, president and founder, is the personality behind the brand, but the company's distinctive, and sometimes outrageous, products are also the result of a team that handles everything from product development to graphic design. Big Mouth Toys is debuting several items in 2014, including an expanded selection of garden gnomes, a popular line launched last year. "Gnomes are always top sellers, especially in the spring," says Lynn Polaski, national sales account manager. "Regular garden gnomes have been around a long time, but ours are a little edgier, and they make people laugh." Gnomes wholesale for $9, and retail for $18 to $20. Big Mouth Toys is also growing its assortment of comical coffee mugs, and recently introduced a ceramic three-piece set reminiscent of the "Rock-paper-scissors" game. The trio wholesales for $9. In addition, the firm is building new birdhouses, including one that replicates an outhouse, as well as salt & pepper shakers with a surprising twist. Another fun outdoor novelty item is the Sweet Cheeks seat cushion that has users "wearing" a thong and a tattoo on their backsides. It wholesales for $10.
Big Mouth Toys regularly exhibits at the ASD shows, and will be in Las Vegas next month to meet up with old and new friends alike. "Buyers both small and large are at the shows, and we like the broad audience ASD has. We will be offering a ten percent discount on orders written at the show," Polaski states. The minimum order is $100, and the company will break cases.
Opportunity Buys Inc. (OBI)
Opportunity Buys Inc. (OBI) is a general merchandise wholesale distributor and importer of the exclusive OBI brand of decorations, candles, candle warmers, polyresin figurines and many more gift items. "Not only do we offer great quality items, but our price points are fantastic," stresses president Tim Chocklett, who launched the company in 1994. "Our ceramic candle warmers are hot sellers, and we have them in a variety of sizes, colors, styles and patterns." People like electric ceramic candle warmers because they are a safe alternative to burning candles, and do not produce a flame, soot or smoke. "Dream catchers and angel themed items are also very popular," Chocklett shares. "People like things that give them hope." Polyresin statues are also popular, and OBI has them in a wide range of motifs to meet differing tastes, including Southwestern, Down on the Farm, Nautical, Down in the Holler and Wild West. Many items retail for $10 to $30, and wholesale is about half of retail.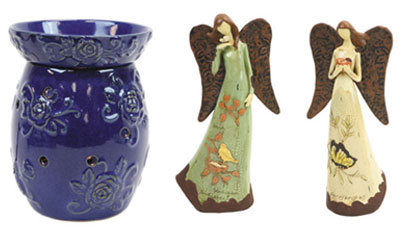 OBI adds around 200 items annually, and will be showcasing many new designs in candle warmers, dream catchers and other gift items at ASDLV. "We attend the show to service existing customers and meet new customers, and to show retailers our new merchandise. We offer show deals, but the biggest thing is the one on one attention we provide. We get to see customers who can't make it to our showroom in Indiana."
ASDLV offers buyers a big opportunity to meet wholesalers and see their latest product introductions, as well as to take advantage of special show offers. This year, retailers will find classic die-cast cars, trains and planes, edgy gnomes, and fun figurines and candle warmers that offer quality and good profit margins. What's more, with gift giving occasions occurring all year long, products in this category practically sell themselves. To read more about ASDLV, click here.
ASDLV
6255 W. Sunset Blvd, 19th Floor
Los Angeles, CA 90028
Toll Free: 800-421-4511
Tel.: 323-817-2200
Website: www.asdonline.com
Nostalgic Images
26012 Nostalgic Road
Defiance, OH 43512
Tel.: 419-784-1728
Email: Online form
Website: www.nostalgicimages.com
ASD Booth SU3604
Big Mouth Toys
655 Winding Brook Drive, Suite 205
Glastonbury, CT 06033
Toll Free: 800-592-0293
Tel.: 860-659-8304
Website: www.bigmouthtoys.com
ASD Booth SL1501
OBI Wholesale/Trippies Gifts
1515 Brookville Crossing Way
Indianapolis, IN 46239
Toll Free: 800-894-2816
Tel.: 317-353-6684
Website: www.obiwholesale.com
ASD Booth SL1724