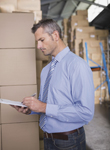 An Essential Guide for Online Sellers
In last month's issue, we looked at four of the top ten strategies to make free shipping affordable for your business. This month, we'll round out my top ten list by looking at more options for free shipping.
There's no question free shipping is a virtue when it comes to creating a climate of excellent customer service. As I mentioned last month, two thirds of online shoppers report being actively annoyed by shipping costs, according to a recent Harris Poll. Meanwhile, up to 85% of shoppers prefer free standard shipping promotions above any other common online promotion.
The good news for business owners worried about taking on this added expense is that there are ways around high shipping costs. So without further ado, here are my final 5 methods you can use to hold down shipping costs and pass along those savings to your grateful customers:
1. Dollar Threshold.
Offer free shipping if the dollar value of the purchase exceeds a set threshold. This is another page out of the Amazon playbook. If you're not an Amazon Prime member and still want free shipping, Amazon says, "No problem. Just increase your order size to more than $35, and we'll throw in the shipping." It's a great way to increase order value: 58% of shippers will actually add items to their cart to qualify for free shipping (comScore, 2014).
2. Improve Parcel Discounts.
Use benchmarks to understand how your rates compare with other shippers. Small changes to your carrier agreement can have a large impact on overall savings. Quantify which extra charges affect your company the most and target these charges for waivers or reductions during negotiations. In addition to pursuing lower accessorial charges, don't overlook opportunities to reduce overall discounts and minimum shipment charges.
3. Go Regional.
Regional carriers like Eastern Connection, LSO, OnTrac, Spee-Dee Delivery, Pitt Ohio, LaserShip, Prestige Delivery, Courier Express and others offer reliable parcel delivery services at rates as much as 40% less than national carriers. Regional carriers are ideal for shippers with multiple distribution centers, especially if the distribution centers are aligned to the regionals' delivery footprint.
4. Mine Parcel Invoices.
According to industry estimates, each year more than $3 billion in "guaranteed" service claims are not refunded because claims are never filed. Companies that take the time to audit invoices realize the benefit from this often overlooked savings opportunity. And it's not just late shipments entitled to money back guarantees, but also missing discounts, overcharges, shipments manifested but never shipped, and other erroneous charges common with parcel invoices. For companies unable to audit internally due to a lack of resources, there are a number audit and payment firms with weekly savings ranging from 1% – 15% of the total invoice amount. A qualified freight audit firm ensures you never overpay your carriers.
5. Least Cost Routing.
Modal optimization—choosing the right carrier to derive the fastest delivery at the lowest cost—requires enabling technology. The right technology will take the guesswork out of routing packages. Explore ERP, TMS and/or multicarrier options that allow for multiple-carrier rate shopping. Be sure the technology searches includes package dimensions, weights, zones, surcharges, and includes the unique terms and incentives of your parcel pricing agreement.
In summary, there are multiple strategies you can explore offset the cost of shipping so you can provide low cost or free shipping, for at least some of your products. The right combination of these strategies will help you reduce costs, improve delivery transit to your customers, increase cart conversions and order values, and enhance customer loyalty.