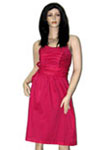 Topper Liquidators is a family-owned operation that sells numerous types of closeout and liquidated merchandise, the vast majority of which is new. Liquidation is a process whereby the merchandise in a warehouse or store needs to be quickly distributed for various reasons. Often the business is closing, changing product lines or is in bankruptcy, and wants to liquidate its entire stock at one time, rather than having a drawn out sale. Topper Liquidators purchases most inventory directly, and offers retailers an extremely lucrative opportunity because there is no middleman. The firm's extensive inventory includes wedding and formal gowns, footwear, eyewear, apparel, electronics, cosmetics, antiques and collectibles, jewelry, home décor, hardware, automotive parts and more.
Wedding, prom, quinceañera and evening gowns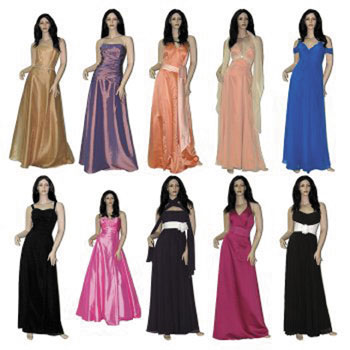 Topper Liquidators recently received more than 7,000 first quality formal dresses from a famous company, suitable for a range of occasions including weddings, proms, quinceañeras and evening celebrations. "It is always a good time for retailers to stock up on this type of merchandise, especially at our prices," states Justin Humphries, VP of marketing. Closeout prices ranges from $8 to $60 per item. "People get married all throughout the year, and the evening dresses are very nice for many occasions." The company has also received a huge shipment of platform heel shoes, which are available at incredibly low wholesale prices. "Retailers and distributors can buy them for as little as $7 per pair, and retail is as much as $180," Humphries shares. "There is a tremendous market for these types of dancer shoes, and many specialty stores carry them."
Sunglasses by Ray Ban, Gucci, Prada & More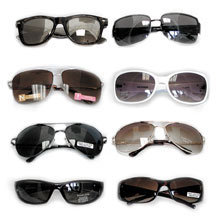 In addition to great deals on highly marketable apparel and footwear, the closeout specialist is known for its array of fashion accessories. Topper Liquidators receives new designer sunglasses every week from authentic sources. "We have a selection that includes Ray Ban, Gucci and Prada, in very popular designs at highly competitive prices," Humphries adds.
Topper Liquidators is unique in that it wholesales single items as well as $100,000 lots. Retailers are invited to visit the company's 20,000 square foot facility, conveniently located off Interstate 95 in south Florida, and shop in person. In a series of attached warehouses, they can peruse watches and sunglasses in the upstairs area, wedding gowns in the air-conditioned facility, and non-perishables in a third location.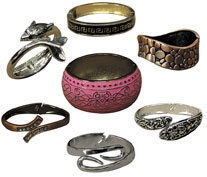 Buyers can also shop online and take advantage of the company's many specials. Two-day deals, for example, may comprise ten units of sample wedding gowns with a suggested retail price of $8,000, reduced to $349.99.  Topper Liquidators also offers bi-weekly specials. As a recent example, Jordache earrings sold in packages of 860 earrings, and were reduced to $.23 per card. Retail is $2 to $6 per unit. Everything that has been inventoried is shown online with wholesale prices. Topper Liquidators accepts all credit cards and PayPal, and will ship to any country in the world. Orders may also be placed by phone.
For more information
Topper Liquidators
2601 John P. Lyons Lane
Pembroke Park, FL 33009
Tel.: 954-454-1300
Website: TopperLiquidators.com
To read more about Topper Liquidators, click here.