The Cannabidiol fad is still making its way around the nation as 2021 continues, with more CBD brands making their debut as well as new and innovative products. The global market for CBD oil is expected to grow from $967.2 million in 2020 to $5.3 billion by 2025, at a compound annual growth rate (CAGR) of 40.4 percent for the period of 2020-2025, according to Research and Markets.
While the market continues to grow, the Federal Trade Commission (FTC) is starting to crack down on deceptive CBD medical claims and the Food & Drug Administration (FDA) is still issuing warning letters to companies for selling products containing CBD in ways that violate the Federal Food, Drug, and Cosmetic Act (FD&C Act). This unregulated industry is starting to show signs of some established structure through enforcement measures, which will hopefully continue throughout 2021. The more regulations and structure that come to the CBD industry, the better the products and their effectiveness will be for consumers. Here are some new products and trends for retailers to keep an eye on this month:
CBD Coffee
Green Roads Hemp Flower Coffee is a delicious way for your customers to upgrade their daily routines. Their morning can start with the company's hemp flower-infused Colombian coffee, which creates a delicious brew highlighted by CBD, CBG, and other cannabinoids. They offer original, hazelnut, or vanilla flavors.
Green Roads
Tel.: 833-462-8922
www.greenroads.com
Daily Balance Body Butter
Taos Daily Balance Body Butter is a fast-absorbing, long-lasting moisturizer infused with high-quality, hemp-derived CBD and natural botanicals. This formulation includes a generous blend of organic shea butter, lavender, and vitamin E, protecting the skin from dry air, heat, and cold weather.
Taos
www.vertical-wellness.com/taos
Ultra Rich Satin Body Crème + Shea Butter
BOTA™ has combined the forces of shea butter, jojoba seed oil, and hemp extract to give skin the gift of this ultra-rich body crème. Containing less than 0.3% THC, all of the ingredients are plant-based and infused with 200mg of CBD.
BOTA
www.botaskin.com
Full Spectrum Bacon Flavored Pet Treats 300mg
Complete with 10mg per treat, these bacon flavored snacks are great for pets to help relieve joint pain and anxiety. Each container has 30 treats and they work for both cats and dogs.
Nass Valley Gardens Inc.
Tel.: 888-515-4201
www.nassvalleygardens.net
Full Spectrum CBD Pre-Roll 6 Pack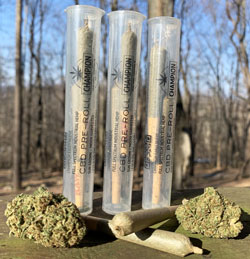 These CBD Pre-Rolls from Champion Hemp Farms are a great choice for the traditional cannabis smoking enthusiast, made from the final trimmings from their premium hemp flower that is then slowly dried and cured to absolute perfection. Tubes are safety-sealed, QR -coded, and vacuum-sealed.
Champion Hemp Farms
Tel.: 724-686-4121
www.championhempfarms.com