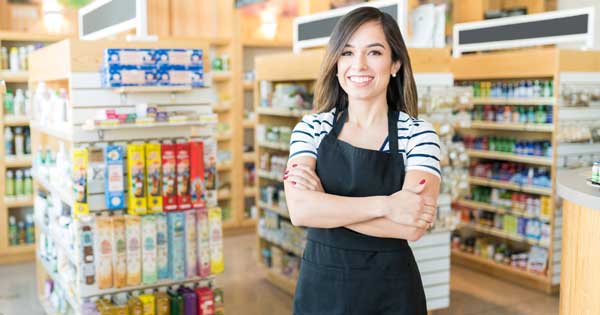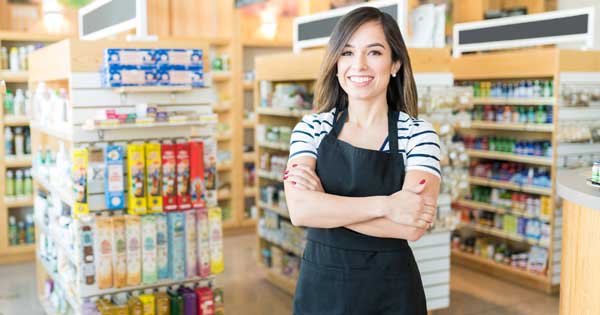 The retail industry is still recovering from the economic shutdown in 2020 due to COVID-19, but experts are predicting this year to be a successful one in terms of consumer confidence rising and the industry as a whole getting back on their feet. More specifically, the global department and general merchandise stores market is expected to recover and grow from 2021 to 2023.
According to ResearchandMarkets, the general merchandise market saw a decline from $1,843.6 billion in 2019 to $1,810 billion in 2020 at a compound annual growth rate (CAGR) of -1.9 percent. The decline is mainly due to economic hardships from the pandemic and the measures to contain it, but the industry is expected to recover and grow at a CAGR of four percent from 2021 and reach $2,026.5 billion in 2023.
Top Buying Trends
As the global department and general merchandise stores market continues to increase, indie retailers need to pay attention to any particular product trends in this category so that they can see a boost in their sales as well. Current trending data from Faire shows that the top overall product categories on their website were Kitchen and Tabletop, Accessories, and Apparel. The data also indicated that the most purchased product types included Candles, Health & First Aid, and Drinkware. Additionally, the top purchased products were cotton masks, snacks, and cardigans.
This data easily shows what products consumers are looking for in the new year as well as what they are thinking about. One of the biggest trends the retail industry saw in 2020 was the personalized connections brands made with their customers in the height of the pandemic. Shoppers wanted to know that businesses were understanding about what they were going through, and any retailer that went the extra mile to get to know their customers saw positive results in their sales.
Ibotta, the leading cash-back app, has shared some interesting data on what products consumers bought more of at the start of the pandemic. While this data is not surprising, it validates what we have been seeing and the understanding of how the pandemic has impacted spending habits. Based on purchasing data comparing what shoppers bought in 2019 to what they bought in the first half of 2020, here is what consumers nationwide are buying more of:
Spirits – up 33%
Bakery Items – up 17%
Meat, Poultry and Seafood – up 16%
Condiments, Sauces and Seasonings – up 15%
Deli Products – up 15%
Beauty and Grooming – up 14%
Canned Goods and Soup – up 13%
Wine – up 12%
Frozen Foods – up 12%
Health and Wellness Products – up 10%
Beverages – up 9%
Dairy – up 9%
Snacks, cookies and chips – up 7%
Household Essentials – up 7%
Produce – up 6%
Candy – up 4%
Accelerated Growth in Pet Care Categories
Retail sales of durable pet care products for dogs and cats was expected to reach $5.7 billion by the end of 2020, according to an estimate by the market research firm Packaged Facts. That is up from $5.2 billion in 2019 and from $4.7 billion in 2015, reflecting a 3.9 percent CAGR for the 2015-2020 period. The industry has proven its resilience, particularly in the durable pet care product categories.
Mass Market Retailers suggests that this growth has been spurred by a number of COVID-19-related factors, including a pet adoption boom and sheltering-at-home, resulting in more time for human/pet interaction, bonding and outdoor activities. Because of this, pet owners need durable products for their furry friends, thus accelerating the industry.
Brand Value is Still Key
The brand value trend is expected to continue throughout the rest of the year, according to insights from Faire. Many retailers shopped by brand value in order to find products that resonated with their customers. According to Faire's survey data, the most purchased brand value tags were Women Owned, Made in the USA, and Handmade. Consumer purchasing patterns have become more about how they value a brand rather than the actual product itself.
Post-COVID-19 Consumer Spending Behavior
Even though the end of the pandemic is still unknown, research conducted by Savanta, a full service market research agency, shows that shoppers do not plan to change much about their purchasing patterns. According to the research:
23% of consumers plan to spend more on household products post-COVID-19 pandemic.
22% of consumers plan to spend more on DIY home improvement post-COVID-19 pandemic.
22% of consumers plan to spend more on in-home entertainment post-COVID-19 pandemic.
20% of consumers plan to spend more on out of home activities post-COVID-19 pandemic.
Especially after the holiday season, shoppers are expecting to be a little more frugal with their money and only spend it on the essentials from brands they know and trust. Indie retailers can become that trusted brand for consumers by offering high quality products and outstanding customer service. Here are some general merchandise product ideas to keep business thriving in 2021:
Floral Mesh Side Slit Kimono
This is the perfect piece to go with any spring or summer outfit. Made with power mesh fabric for that light and airy feel, it comes in three beautiful colors: pink, black, and blue. Available in sizes small to extra large.
VIBE Apparel Co.
Tel.: 213-277-5803
www.wholesalecentral.com/vibeap0001
Shiny Design Armor Hybrid Protective Case
for iPhone 12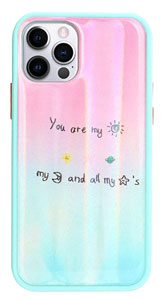 Get your store ready with all of the latest iPhone 12 accessories, and this case is a beautiful option for customers to protect their new phone. Kiko Wholesale Group has all different case covers for the iPhone 12, iPhone 12 Mini, iPhone 12 Pro, and the iPhone 12 Pro Max.
Kiko Wholesale Group USA
Tel.: 212-686-2198
www.kikowireless.com
Summer Sands Beach Jewelry Candle
Users will get a jewelry prize after burning this candle, so it's double the excitement. Choose between a bracelet, necklace, earrings, or a ring inside the candle. The wonderful combination of white flowers, bergamot, orange flowers, ylang-ylang, lily of the valley, and citrus zest will have your customers feeling like they are right on the beach.
Jewelry Candles
Tel.: 800-513-1675
www.jewelrycandles.com
5W Qi Wireless Charger
Wireless chargers are gaining popularity, especially since they can charge smartphones without using cables. Each product is packed in a color box with a product window on the back. Bulk cases have 12 pcs that come with 2 assorted colors.
DollarDays International, Inc.
Tel.: 877-837-9569
www.dollardays.com
Chandraki Earrings
These earrings are an original piece with beautiful vibrant colors that bring a pop of color to any outfit. Handmade with thread by local artists in India.
Kanti Goods
Tel.: 512-666-0907
www.wholesalecentral.com/kantig0001
Tassel Leatherette Messenger Bag
The faux leather tassels on this crossbody bag make for a great accessory to complement the perfect summer look. It comes complete with a magnetic snap button closure on the flap and an inside zippered pocket divider.
Handbagshopping.com
Tel.: 800-376-1157
www.handbagshopping.com
Lavender-n-Lemon Handcrafted Beeswax & Honey Soap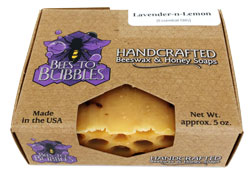 Handcrafted from scratch by a local family in the Big Horn Basin, this soap is made with a variety of vegetable oils, honey and beeswax. The beeswax is a skin sealant and the honey is a moisturizing agent. Also available in Dirt, Apple/Mint, and Sandalwood Vanilla fragrances.
Amish Origins
Tel.: 888-530-7643
www.amishorigins.com
Country Rooster Kitchen Pot Rack
The pandemic has caused many families to spend more time at home, which means more time in the kitchen preparing home cooked meals. This attractive overhead rack provides easy access instead of digging into a cluttered cabinet or storing in the oven. Comes complete with a rich rust-red finish to add elegance to any kitchen.
Eastwind Wholesale Gift Distributors
Tel.: 855-394-4387
www.eastwindgifts.com
Bee Humble House Flag
No lawn decor is complete without this adorable honey bee and flower flag. Silky soft yet shockingly durable, each flag is made from two panels of heavy duty soft polyester with an exclusive sun block backing to enhance the rich vibrant colors of the design. It goes great on the deck, patio, porch or veranda.
Flags Galore Decor and More
Tel.: 614-504-7338
www.flagsgalore-wholesale.com
Waterproof Vehicle Dog Seat Cover
Now, consumers can take their furry friends along for the ride without having to worry about ruining the inside of their car. This dog seat cover protects the interior from mud, fur, claws and pet odor. Complete with cut-outs for seat belts, the large 57" x 57" shape accommodates most makes and models.
H&J Liquidators
Tel.: 800-875-7717
www.hjcloseouts.com