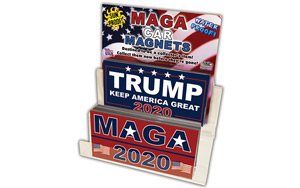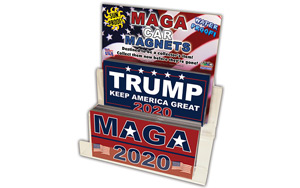 SJT Enterprises is on a roll this year with new product offerings, their latest being Trump Car Magnets. It doesn't matter what side of the political fence your customers are on, SJT has the perfect car magnets for them. Available packages are nine pro-Trump and nine anti-Trump magnets.
SJT Enterprises is a 33-year consumer products company that sells many different types and designs of artistic signs, cards, coasters and plaques. Their website features the artwork from many different artists including Stephanie Burgess, Ursula Dodge, and now Smack Apparel with many newly introduced products.
"President Trump is certainly a person we talk about every day for one reason or another. Some love him, some not so much," explains SJT president Tim Smith. "Now your store can capitalize on his 'popularity' by selling our high profit margin car magnets." With 9 'for' and 9 'against,' we have the right car magnets for you along with a FREE counter display. And they're American made so you're supporting Americans."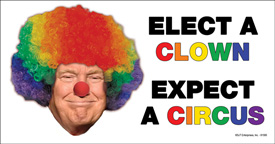 These USA made products are set to be a huge hit for resellers everywhere because of their great pricing and humor. Each car magnet measures 4" x 8" and is waterproof and UV resistant. The wholesale price is a whopping $1.50 each, making for an easy $5 retail price your customers will love.
Be sure to check out SJT Enterprises new Trump Car Magnets at an upcoming trade show. They will be at the Surf Expo Show from September 5-7, The Las Vegas Souvenir Show from October 2-5, IGES Souvenir & Gift Show in the Smokies from November 6-9, The Ocean City Souvenir & Gift Show from November 17-19 and The Grand Strand Myrtle Beach Souvenir Show from December 8-11.
All of SJT Enterprises' products can be viewed at www.ThousandsOfSigns.com. Just type TRUMP in the search.
SJT Enterprises
28045 Ranney Pkwy. Unit L
Westlake, OH 44145
Tel.: 800-326-7419
www.ThousandsOfSigns.com