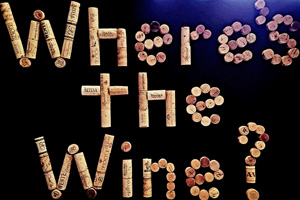 Coming from the corporate world into the small, rural town of Washington, North Carolina, Leilani Nichols decided to dive into the artisan world of wine cork art. Using discarded wine corks, wine bottles and discarded wood that would otherwise end up in landfills, Leilani repurposes these items into works of art that she sells at a local market.
"I've always had an entrepreneurial spirit, dabbling in little things and I have always been creative," Leilani said. "I just started looking online at different things and saw this wine cork creation and thought 'Oh my gosh, that's so cool, I could do something like that.' I love wine. I love Italy. I'm Italian, and I started researching how to get cork and just went from there."
Beginning in April of 2018, Leilani combined her passion for wine and working with her hands and created her business, Where's The Wine? Her husband helps in making the wine bottle lamps, chandeliers and wood art, but Leilani designs everything and the other pieces she makes by hand.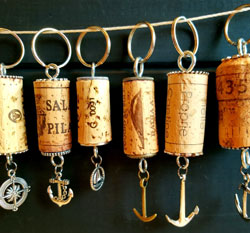 Where's The Wine? offers many different creations ranging from keychains and Christmas ornaments to giant letters and wall hangings such as anchors, hearts, turtles and other signs. When customers ask her for a special order, Leilani won't just use any cork for her pieces, and instead asks them for specific dates so she can find corks with those dates and incorporate them into the product.
New Opportunities
The Harbor District Market, where Leilani sells her artwork, opened in Washington, NC in June of 2019, creating new opportunities for small businesses in the area to set up shop and sell their merchandise. Some of the other vendors at the market include Acre Station Meat Farm, Southside Farms, Carryout By Chrisalyn, Val's Gourmet Baked Goods and IBX Soaps. The market opened with a mission to support local producers and artisans.
"The market is my storefront," Leilani said. "When I started last year, I just did the local farmer's market and different craft shows and festivals, and then this year the Harbor District Market opened and I saw it as an opportunity to have a storefront and expand my work space."
The market is open Thursday through Saturday, so during her days off, Leilani utilizes that time to make new art pieces. All of her products are one-of-a-kind pieces, so they take time and dedication to make.
Selling Online
Leilani also sells some pieces through her Facebook page, Where's The Wine?, but only those that can be recreated easily. She doesn't have a website as of yet, it's currently in the works, but it's a lot of work for just one person to sell at the market three days a week, make all the pieces by hand and still be able to keep up with the online demand.
"I wish someone would do it for me," Leilani said, laughing. "I haven't had the time and I find it a challenge because each one of my pieces is unique and one-of-a-kind, so how do I have them in a market and also online? I haven't figured that out yet."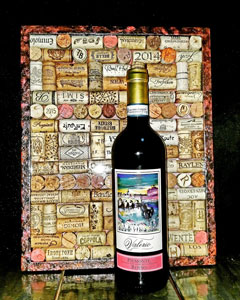 On top of all of the art pieces Leilani makes, she also now runs a lemonade stand at the market. They saw a need for cold drinks and nobody was serving them, so she expanded her business and now offers 'Wine-Not Lemonade?' with freshly-squeezed lemonade and yummy Italian sodas. She's been serving the drinks since July 3rd and says they have been a huge hit at the market. With the hot summer days that can hit NC, who wouldn't want some ice cold lemonade?
For entrepreneurs who have their own thirst for business, Leilani says to just dive right in. "Don't sit around thinking about it. Take a chance and put a lot of effort and time into it. Just step outside of the box and take a chance on yourself."
To see more of Leilani's artwork, visit her Facebook page at www.facebook.com/wineartbyleilani.