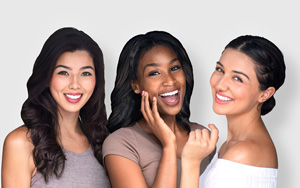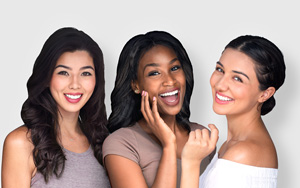 The inclusivity movement is growing intensely, and consumers are calling out brands that aren't diverse enough for their tastes. Just see the backlash that the infamous Tarte Cosmetics brand received when they didn't offer a wide variety of shades in one of their foundations in 2018. It's putting pressure on retailers to diversify their health care and beauty market.
Businesses are not only reacting by offering multiple shades for every skin tone in makeup, but also including a wide array of hair care for all textures. If you are looking for beauty products that cater to every single one of your customers, OKAY and Shea Moisture are great companies to start with, both top name brands offering skin and hair care for all types.
The Fenty Beauty Trend
There is no doubt that when Rhianna launched her successful beauty brand in 2017 with 40 different shades of foundation, it erupted into a new makeup trend of putting racial inclusivity front and center in marketing and product development. Not only does she offer flattering makeup shades for a wide range of skin tones, but she also showcases plus-size models on the runway featuring bigger and beautiful styles for women.
Now, mass beauty merchants such as Maybelline and Revlon offer diverse beauty products not only in foundations, but in lipsticks and highlighters as well. This trend has caused such a shift in the way businesses market themselves that consumers have even stopped shopping at stores that don't offer a large variety and some consumers go so far as to shame the retailers on social media. Following the Fenty Beauty Trend can save retailers from being missiled with negative online comments and reviews.
More Variety, Less Waste
According to the Chain Drug Review, retailers can buff up ecommerce selections but use their brick and mortar stores as a spot for shoppers to touch and actually see beauty products before buying. This makes it easier to offer more than one shade of foundation or blush that can be sampled and then ordered online. Once your customer finds a shade that works for them, they can continue stocking up through your e-commerce site.
This option not only makes it easier for consumers and boosts your likeability for your diverse products, but it will also help reduce shrink and waste from unsold merchandise expiring on the shelves. For example, while a line might have 50 shades, the store doesn't need multiple products of each shade, but can instead carry just one the customer samples and picks for delivery.
Minority Will Become the Majority
New census population projections from the United States Census Bureau show that by 2045, the nation will be even more diverse than it already is. This confirms the importance of retailers keeping up with the demand for a wide array of beauty products in order to offer a selection that is appealing to the widest audience.
It is not hard to stay with the movement, with social media being the biggest instigator of this diversity explosion. Consumers are showing off their natural hair and skin tones, even those with Vitiligo, a disease that causes the loss of skin color in blotches, are owning their skin and modeling for major brands such as CoverGirl and Victoria's Secret.
Strut Your Stuff
It's not just about selling all the right, diverse products, but retailers also have to know how to market their merchandise by creating fun and inviting signage to let your customers know about your new items. Using minority models is a great start, but also be aware of the colors you use for product packaging.
According to Small Business Trends, pink can be ineffective and sometimes insulting to women. Pink is a fun color for some of your products, but if retailers continue to use only pink colors on women's merchandise, consumers will take notice and might even stop shopping there. Instead, try using gender neutral colors such as yellow, white, green and orange to spice things up.