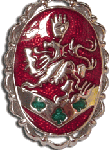 Some of the best and most creative business ideas are brought to fruition by accident. Take for instance, Sean and Erika Potter, co-owners of Medieval Metal, who originally made and sold jewelry and hand-wrapped wine glasses. However, during transportation to scheduled jewelry shows and renaissance festivals, they were left with more shards of glass and leftover wire wraps than decorative wine glasses to sell. Realizing they needed a new product and using what they had, they came up with the idea of using the leftover wire spirals as hair accessories, now known as hair twisters.
Celebrity Inspired Hair Accessories
Women and men looking to decorate a lengthy beard, bangs or ponytail can find a hair accessory from Medieval Metal that fits any style. Hair twisters are offered in multiple metal types (gold, silver and gun black) and fit most hair lengths, ranging from three inches to twenty inches. Embellishments are available, including simple, floral and Celtic designs. "The accessories give a customizable and unique look to any ponytail. They've become very popular among the motorcycle community and sell well at bike shops, but also have profitable potential at gift shops, boutiques and hair salons," says Sean Potter. And now with the Potters' newest "Twilight inspired" hair accessories line, hair twisters is bound to become a household name for those customers who live and breathe pop culture.
The New York Times said it best in an article titled, "Nothing Sells Like Celebrity." Celebrities captivate consumers, and in an effort to imitate, they purchase products that celebrities endorse. In a twist of fate, hair twisters caught the eye of Kristen Stewart, ingénue Bella from the Twilight movie saga. As a result, Medieval Metal developed a line of wraps, charms and hair hooks inspired by the movie's characters and the Twilight Teams, Team Jacob and Team Edward. Wraps and hooks wholesale for a little less than $10, and charms are available for $3.98 wholesale, all retailing for keystone and more. "Our best deal is the 15 piece display, which wholesales for $100," says Potter. "For any buyers who call in response to this article, they will receive an extra 10 percent off their entire purchase with the promo code, 'VIP', which can be used online or over the phone." Retailers are advised to keep a lookout for Kristen Stewart's new hairdo and accompanying hair accessories on the Red Carpet. Odds are, your customers will be looking!
For more information:
Medieval Metal, LLC
1790 La Costa Meadows Dr. #104
San Marcos, CA 92078
Tel.: 760-471-7600
Website: www.hairtwisters.com