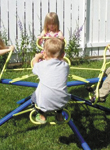 A successful union between a merry-go-round and a teeter totter, Daryl Ducholke's Twirl-Go-Round brings playtime outdoors once again. "The Twirl-Go-Round has been tested on four generations of kids," notes Ducholke, mentioning his own children's part in prototype testing. While the original homemade Twirl-Go-Round of Ducholke's childhood was composed of old machinery parts with few safety features, today's model is kid friendly and kid tested. The Twirl-Go-Round, made out of 100 percent recyclable metal material, comes in a standard two-seat model and is powder coated, making it durable in inclement weather.
Attract a Crowd with In-store Marketing and Playtime
Should there ever be an incident that requires the Twirl-Go-Round to need a repair for bent parts, Ducholke offers the, "Dad got Drunk and Went on the Twirl-Go-Round Kit," on the website. "No parts should wear out. The neoprene bushings are made to last," says Ducholke. "Simply, if something becomes bent or destabilized, users need to consider who is using the product." While the Twirl-Go-Round doesn't have a required age limit, it does have a specified weight capacity. The standard two-seaters hold 120 pounds per seat, while the converted four-seaters only hold 90 pounds per seat. "Too many times adults bend the Twirl-Go-Round because they want to take it for a spin," notes Ducholke. "As a result, I'm going to release an adult model in the spring. This model will hold 350 pounds per seat."
Ducholke believes a little dizzy fun is for everyone. "I bring this item to tradeshows and I easily sell 10 to 50 in a day," he says. "They also do well at flea markets as entertainment. Set one up and charge for rides all day." It is a twirling, dizzying demonstration that attracts a crowd, riders and hopefully customers. Already in a few independent stores, Ducholke is looking to have gift stores, camping stores and other shops sell his Twirl-Go-Round. "Just set it up for a test drive and play the demonstration video," he says. Buying volume for $125 apiece wholesale, retailers can easily sell each unit for $299, and many times work on a 300 percent markup. Currently, Ducholke is looking to clear inventory for a new shipment, and retailers who call soon may receive lower pricing.
For more information:
Twirl-Go-Round
52024 Range Road 280
Stony Plain, Alberta T7Z 0C3
Tel.: 780-968-3957, 780-999-1111
Website: www.twirlgoround.com