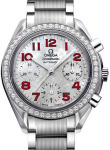 In a development that could have significant repercussions for online independent retailers and other discount stores, the Supreme Court has agreed to come to a decision regarding the copyright infringement suit brought against Costco Wholesale Corp. by The Swatch Group's Omega SA unit. The suit comes as a result of Costco's reselling of luxury Swiss watches procured from third-party sources.
"[This ruling] could have a detrimental effect on the ability of buyers and sellers of secondary-market goods to engage in commerce in the United States," said a spokesperson for eBay Inc., one of the companies that could be directly impacted by the forthcoming ruling.
In addition to eBay, companies like Amazon could also be facing strong implications from the ruling, as would any online entity that is involved in the reselling of goods. The suit alleges that Costco violated copyright law six years ago when it sold Omega Seamaster watches purchased from companies that had imported them into the United States. Costco then sold the watches for a reported $1,299, below Omega's SRP of $1,999.
In response to the suit, Costco claims that once the watches were initially sold, Omega could not issue any further limitations or conditions on how its products could be resold. When the case was first brought before a federal judge in the state of California, the judge agreed with Costco, but two years ago the decision was overturned in appeals court. According to that ruling, Omega retained rights to products later imported to the United States.
Costco has received support in the form of a brief from retailers such as Target and Amazon, which have claimed that the original ruling represented a threat to any companies in the business of reselling foreign-manufactured products. The brief asserted that the decision could've resulted in higher prices for consumers.