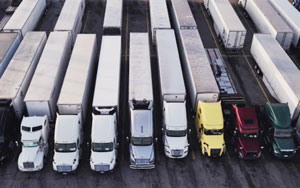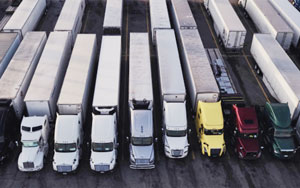 Trying to satisfy your customers' shipping needs can be a long, tiring, and expensive process, especially if you're just starting out in the retail business. The growing demand for faster shipping is inevitably leaving the little guys behind because they can't keep up, and this is where Uber has stepped in to help the cause.
The company launched Uber Freight in May of 2017 to help create a seamless and transparent way for shippers and carriers to collaborate, according to an Uber Freight spokesperson. Right now, the service is available across the lower 48 states and is working with shippers of all sizes, including large shippers like Anheuser-Busch and Land O'Lakes, and smaller shippers like American Tile & Stone and Premier Packaging.
"The Uber Freight platform democratizes access to logistics for shippers of all sizes, by providing a direct connection to our vast carrier network, enabling them to see instant upfront load pricing, tender a load with only a few clicks, and track their shipment from start to finish," a spokesperson said. "By simplifying and streamlining this process for shippers, Uber Freight takes the headache out of managing their transportation needs and helps small businesses to thrive."
Here's How Uber Freight Works
Uber Freight simplifies the entire booking process and it works just like the Uber app. Once you log in to your account, enter in the pickup and dropoff information, and you will get an instant quote. If you're happy with the quoted price, you can book the shipment right there. It's that simple.
Once you've gotten your company profile set up, drivers working with Uber Freight will come directly to your warehouse or business location to get your items. The app will help you schedule the pickups so that someone from your company can be onsite during the pickup and loading.
The service also allows you to track the shipment in real time and will send you updates about key delivery milestones, so you can properly update your customers without the hassle of making a bunch of phone calls or email chains. Your past shipments will be saved in your account and you can view them as well as future shipments at any time.
According to an Uber spokesperson, there are a large number of variables when pricing freight. Uber Freight provides upfront and transparent pricing that reflect market conditions and take into consideration a number of freight-specific variables, including distance, location, time of year, cargo type and others. Therefore, the rates can change at any time.
"We see tremendous opportunity to improve the trucking industry by connecting carriers and shippers," a spokesperson for said. "Uber's leadership is excited about the future of Uber Freight. In fact, we doubled our investment in Freight for 2019."
How You Can Sign Up for Uber Freight:
Uber Freight has a shipper sign-up page where you can enter in your company information and note whether or not you are shipping within the continental US. After you've done that, you can choose from different modes your business uses to move shipments including 53' dry van full truckload, 53' refrigerated full truckload, less-than-truckload, flatbed, parcel, or other.
After you submit the information, someone from Uber Freight will get in touch with you to give you more information on how to get set up on the platform as well as answer any specific questions you may have. Since the company's launch, they have been providing an easier way for shippers and carriers to collaborate. From the simple push of a button, you can give your customers the faster shipping they want without any extra hassle. Visit UberFreight.com to see how it can help your business.