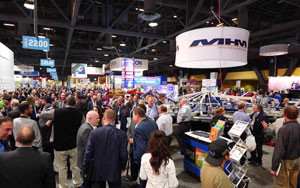 The Imprinted Sportswear Shows (ISS), an Emerald Expositions trade show, is held each year in Long Beach, Atlantic City, Houston, Orlando and Fort Worth. The shows are leading wholesale events for the decorated apparel and imprinted products industry. The exposition floor showcases the newest products, apparel and equipment featuring new technology, sublimation, and techniques with hands-on demonstrations.
Sarah Jordan, Marketing Specialist for Emerald Expositions tells Independent Retailer, "We have a wide range of companies who attend our shows. Anywhere from a home-based embroidery business with one employee to very large companies who supply custom t-shirts and promotional products to other companies." For example, Sarah says Disney®, Nike,®, Under Armor® and Amazon® have all attended ISS.
At the show, retailers can find blank apparel such as Hanes®, Gildan®, Bella®, and Canvas®, says Sarah. Retailers can also expect screen printing, embroidery, and sublimation equipment. Laser equipment and other small heat press tools are available to incorporate all types of product personalization.
In addition to blank apparel and promotional products and personalization equipment, ISS hosts nearly 40 educational sessions covering a variety of topics including screen printing, embroidery, digitizing, digital decorating, business, as well as free "Onsite Learning" sessions that are held on the show floor.
Sarah says they will also hold "shop talk" sessions, which are short informal sessions that are meant to be interactive and discuss business with industry pros. Every ISS show also includes a happy hour which is open to all attendees and exhibitors.
In order to make the most out of your experience at ISS, Sarah recommends that retailers plan ahead. "Attendees have access to an online portal to plan their time at the show as well as message and make appointments with exhibitors. This preplanning will save them a lot of time on site." Right before arriving at the show, download the ISS mobile app. "We also have a mobile app that attendees can use onsite to navigate the show floor, take notes on any educational sessions and bookmark their favorite exhibitors."
Visit the ISS website and join their email list or follow them on social media to be notified when show registration opens. ISS is very supportive of small, home-based, and startup businesses. "Registration is a simple online process that does not require a business license to qualify, so we can be inclusive of the home-based businesses or those just getting started in the industry," explains Sarah. "We offer promotions leading up to the show so most attendees who follow us can get an expo pass for free with special promo code offers." Visit www.ISSshows.com to see the dates for all five locations and to sign up for show updates.
Imprinted Sportswear Shows
Tel.: 800-465-5514
www.issshows.com