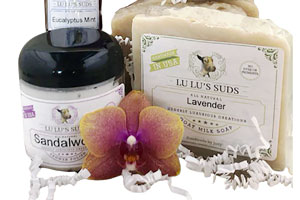 From luxurious soaps and lotions to beard balms and even a maternity line, LuLu's Suds has everything your customers need to keep them fresh and looking their best. This family-run business creates all of their goodies by hand with love right in Ohio.
Fan Favorites
LuLu's Suds prides themselves on the quality and feel of their lotion. Using all natural ingredients and made without harmful chemicals, users only need a pea-sized amount and it will spread all over. Customers also love the fact that it does not leave them feeling sticky or greasy after applying. All they feel is hydration, which is why it is one of the company's best-selling products.
All-Natural Maternity Package
Another popular line from LuLu's Suds is perfect for brand-new moms, which includes a nipple cream that is edible, a hinny paste that comes in a deodorant stick so moms do not have to worry about getting their hands all messy, and a belly balm that helps with stretch marks. What started as a collection to help the owner's daughter-in-law during her pregnancy has grown into a popular line that moms everywhere are finding super helpful for both during and after their pregnancy. LuLu's Suds also offers a 'Momma's 2 B' start kit which includes all of the above products in one easy package so customers do not have to buy all of the products separately.
All of these amazing items and more can be found on LuLu's Suds' website at www.lulussuds.com. On top of the previously mentioned merchandise, the brand also offers soaps and lotions, body butter, shower polish, beard balm, shave bars for both men and women, and lip balm. The soaps, lotions, and shave bars are all made with goat milk. Contact them to get started selling these products today!
LuLu's Suds
9435 Ash Ridge Winchester Rd.
Winchester OH 45697
Tel.: 937-213-0933