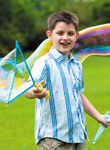 D Now Inc. is an importer of a large selection of bubble toys and bubbles, as well as novelty items and stationary. Recently, the company began distributing the brand name "Uncle Bubble," a high quality bubble solution that can make giant, long lasting bubbles. D Now Inc.'s newest product is the Ultra Bouncing Bubble kit, which includes a small glove, a large glove, one bottle of bouncing bubble solution, a bubble wand, a bubble tube and a tray. The Ultra Bouncing Bubble kit allows users to create durable bubbles for bouncing, catching and playing ping-pong.
To make a bubble with either the wand or the tube, the user dips one device in the solution and slowly and gently blows one bubble. To make a larger bouncing bubble, the user dips both the wand and the tube into the solution, and while gently blowing into the tube, uses the wand to guide the bubble's growth. The company does not recommend blowing more than one bubble at a time, as each bubble lasts longer than ordinary bubbles.
The Ultra Bouncing Bubble kit wholesales for $5.99 and retails for $11.99. The minimum order is 16 units, which come in a colorful, eye-catching box. D Now Inc. has a video section on its website where retailers can see how the different bubble products are used.
Where to buy:
D Now
7150 Rainbow Drive, Unit 38
San Jose, CA 95129
Tel.: 408-332-3930
Visit:
www.dnowinc.com