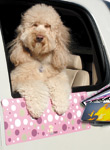 UnderPAWS, from Rellim Products, is the only exterior car door protector that lets one's best friend enjoy the travel experience without damaging doors. Made in the USA, the product's patent pending design allows for a universal fit on most cars and trucks, and is easy to apply and remove. UnderPAWS is made of extra thick magnetic material and UV laminate coating to protect and extend its life.
Pete, a King Charles Spaniel, is at the heart of it all, Julie Miller, company president, shares. "Pete goes with me everywhere I go," she explains, and he enjoys letting it all hang out, the car window that is. "One day, I realized that all my car doors were scratched." Closing the window wasn't an option because Pete had learned how to open it, so Miller searched for another solution. "When I found there wasn't one, I made my own."
UnderPAWS is available in eight designs and two solid colors. The dog bones pattern, "Bad to the Bone" and the white and black paw print, "Faux Paw," are two of the most popular renditions. The "Hot Diggety Dog" flame design is also a hot seller. The product has a wholesale price of $20 and retail is $39.99.
UnderPAWS comes in a cardboard sleeve that is designed for retail display as well as for product storage. It has a window to showcase the product and explains what it is and how to apply it. There is no minimum order but shipping is free on orders of 12 or more pieces.
Where to buy:
Rellim Products
P.O. Box 8021
Edmond, OK 73013
Tel.: 855-UNDRPAW or 405-308-7367
Visit:
www.underpaws.com