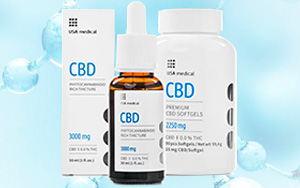 Transparency, honesty, and a premium product line are what make USA Medical stand out from the other CBD and Hemp brands. Their organic, potent, and broad-spectrum CBD oil and softgels are tested and approved by experts to deliver products that work.
From Nature to Science
Hemp-based, organic, and GMO-free CBD is the foundation of everything USA Medical creates. The company's proprietary extraction and purification process uses technology designed to preserve natural terpenes and plant lipids. Prepared in a state-of-the-art, Good Manufacturing Practice (GMP) certified plant, USA Medical sends their CBD products to multiple 3rd-party, ISO-Certified testing facilities to ensure high quality and purity.
Some nutrients can only be found in nature and get lost during chemical processing, which is why USA Medical only sells organic and broad-spectrum merchandise. Their CBD products come packed with hundreds of natural terpenes and cannabinoids with a higher bioavailability to the body, meaning the potency of their CBD is naturally higher than non-organically grown CBD.
High-Quality CBD for a Great Price
One of USA Medical's best-selling products is their 1,000mg CBD oil. Naturally flavored by combining grape seed oil and orange oil, the fresh orange flavor tastes delicious. Users place a few drops of CBD oil under their tongue for the oil to absorb through the thin membrane in their mouth. This is the fastest way to take CBD and feel its effectiveness, and some users report feeling its effects almost immediately. The company also offers oil in concentrations of 250mg, 500mg, and 3,000mg.
USA Medical also offers highly effective CBD softgels for consumers who would rather not have the oil absorb under their tongue for one to two minutes at a time. The hemp undergoes a proprietary refining process using nano-emulsion technology, making the softgels easily digestible, unlike the CBD oil, which must absorb through the thin membrane in the mouth. Their softgels come in packs of 30 and 90 and are available in doses of 300mg, 750mg, 900mg, and 2,250mg per bottle.
Nature's Medicine
If you are looking to offer your customers high quality and trustworthy products, USA Medical is the place to go. Less than five years ago, the company's founder toured the world looking for a cure to a disease within his nervous system that caused crippling back pain. His journey around the globe brought him to California, where he first experienced CBD. Within months, his life changed. The daily pain he felt was gone, and he could not keep this miracle to himself. He decided it was his life's mission to bring CBD to an international market at an affordable price, to ensure everyone could access the same miracle.
Now, USA Medical is known for how well their products work and their care for keeping everything organic and made right here in the U.S. To see more of what the company has to offer, visit their website at www.usamedicalshop.com.
USA Medical
201 N Brand Blvd Ste 200
Glendale, CA 91203
Email: sales@usamedicalshop.com