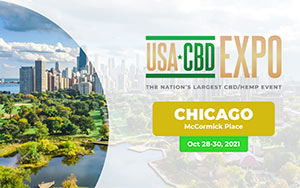 In a completely sold-out show, hundreds of exhibitors and over 7,000 attendees gathered to experience USA CBD Expo's Atlanta, Georgia event on June 11-13. As the nation returns to business-as-usual, this leading brand prepares to host what they expect to be their biggest event of the year — USA CBD Expo Chicago, taking place on October 28-30, 2021.
Wanting to bring together a rapidly expanding industry under one roof, USA CBD Expo hosts the nation's largest trade show experiences for the CBD and hemp trade community. These innovative event organizers have consistently evolved their focus to remain at the vanguard of the market trends, bringing innovative products and brands to businesses and consumers all across the U.S.
The Windy City Welcomes CBD
It's only fitting that the nation's largest CBD event be hosted at the nation's largest convention center (McCormick Place). The windy city has a metropolitan population of almost 10 million and welcomes more than 58 million visitors every year. Many of them are drawn by recent cannabis legalization, which has seen monthly retail sales from recreational cannabis soar to an estimated $40 million in revenue. This Chicago experience will offer endless networking opportunities, over 50 speakers to educate you on what is new in the market, and hundreds of vendors to shop from so you can offer your customers the latest in CBD and hemp.
If you are interested in attending USA CBD Expo's Chicago show, there are three different ticket types you can purchase:
Industry Buyer
Three-day pass with B2B only hours access
Receive exclusive show special discounts and listen to B2B seminars
Tax ID or business license holders required for a free pass
Industry Professional
Three-day pass with B2B only hours access
Enjoy discounts, the ability to attend all seminars, and take advantage of networking sessions
General Admission
Two-day pass (Friday and Saturday only)
Open to the general public
Enjoy discounts, listen to seminars, and view products
With continued investment in marketing and business development, USA CBD Expo keeps expanding its shows despite the many challenges that the pandemic has brought on for the general event industry. This organization will kick off 2022 by returning to South Florida, this time to Fort Lauderdale, on March 11-13, 2022. Later, staying true to their international nature, they will venture to South America to visit the city of eternal spring — Medellin, Colombia, on May 21-22, 2022. Finally, to finish off 2022, and just like in 2021, they will wrap up their year with their biggest show, USA CBD Expo Chicago, on November 3-5, 2022.
To learn more about attending, exhibiting, sponsoring, or speaking at the USA CBD Expo, visit usacbdexpo.com, email media@usacbdexpo.com, or call 631-777-3455. Booth design, travel, and accommodation assistance are all available via the website.
USA CBD Expo
October 28-30, 2021
McCormick Place Convention Center
2301 S Lake Shore Drive
Chicago, IL 60616
www.usacbdexpo.com/chicago